Why should one purchase skin care products for men and women from Sebamed?
by Sebamed | Oct 25, 2023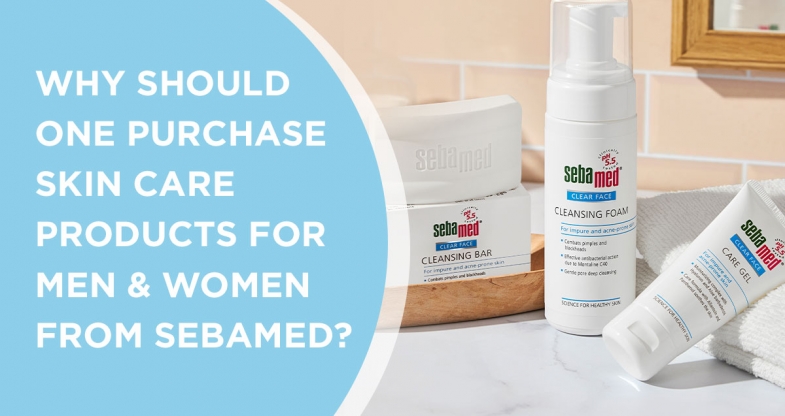 It's that time of the year again when the harsh sun rays are wreaking damage on your skin and hair. The scorching summers and heat waves often lead to sunburn, acne breakouts, greasy scalp, and increased hair fall. At this time, it is quite important to purchase the best summer skin care products that help you restore the natural sheen of your skin and hair.
Shield yourself from direct exposure by wearing a hat or scarf
Where can you find the ideal skin care products?
Before you begin searching for skin care products, you must determine your skin type. There are different products created for different skin types. You must pick products that suit your skin and are free from harmful chemicals. Sebamed is one of the leading skin care brands in the country. All their skin care products are dermatologically tested, contain natural ingredients along with the ideal pH value of 5.5 and can be used by both men and women.
Which Sebamed products should you buy?
Sebamed Clear Face Cleansing Foam
You must have heard that washing your face is a great way to reduce acne and pimples on your skin. The sweat, dust, and environmental irritants often clog your pores in the summer months, which leads to inflammation and acne. Use a gentle foaming face wash like the Sebamed Clear Face Cleansing Foam which combats blackheads and skin impurities. Its active ingredients include Montaline C40, panthenol, and pH 5.5 that removes excessive oil, prevents the formation of pimples, and supports healthy skin.


Use the Sebamed Clear Face Cleansing Foam twice a day. Simply dispense a small amount of the foam and massage it gently on your face. Since this face wash is free from soap, oils, and parabens, it will hydrate and nourish your skin, making it softer.
Sebamed Anti-Ageing Q10 Protection Cream
The harsh UV rays in the summer can dehydrate your face and accelerate signs of ageing. Maintain the elasticity of your skin with the Sebamed Anti-Ageing Q10 Protection Cream. After washing your face with a foaming face wash, apply this non-greasy cream to nourish your skin. Its Q10 compound and Hyaluronic acid will hydrate your face, and help in dissipating fine lines, wrinkles, and puffiness. The ideal pH value of 5.5 will strengthen your acid mantle, making this one of the most essential summer skin care products in your kit!
Sebamed Everyday Shampoo
Don't you feel like using a good shampoo to wash your greasy scalp and hair daily in the summers? Well, we've got you! The Sebamed Everyday Shampoo contains plant-based ingredients that gentle cleanse your scalp without causing dryness. It also contains pH 5.5 which stabilizes and strengthens the scalp's protective barrier to keep away irritants. Regular usage of this shampoo will restore the natural lustre of your hair, giving you the perfect summer look!


Also Read: Which is the right shampoo as per your scalp type?
Whether you wish to wash your hair with a good shampoo daily or walk out with a glowing face in the summer, Sebamed has got your back! Order your favourites from Sebamed in just a few minutes. Visit the official website, Mywellnesskart, select your skin and hair care essentials for men and women from their wide array of authentic products, and have them delivered right at your doorstep!