Which is the Right Shampoo as per your Scalp Type?
by Sebamed | May 24, 2022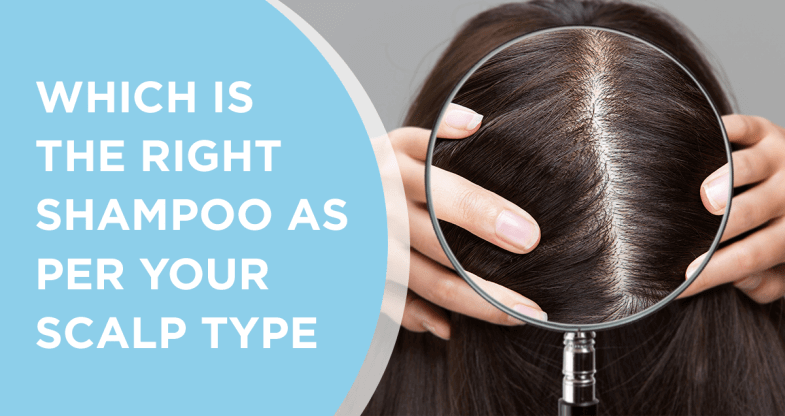 Do you ever feel that even after using a ton of different hair care products, the quality of your hair remains the same? Chances are that the products you are using are not meant for your scalp type.
When it comes to hair care, one product may not be suitable for all types of hair and scalp. This is because every scalp type has unique requirements which can only be met by certain products. Thus, shampoos and other hair care products must be chosen based on the scalp type.
Wash your hair at least twice a week
In this blog, we will help you identify your scalp type. We'll also get you acquainted with the most suitable shampoo for your scalp.
At Sebamed, we have curated specialized shampoos for dry scalp, oily scalp, and normal scalp. We have also formulated extra mild baby shampoo for hair growth to provide them with the ideal hair care.
How to identify your scalp type?
The identification of scalp type is important before starting to use any product. Upon touching the scalp, if you feel flaky skin or scaling skin, you probably have a dry scalp. If your scalp feels greasy most of the time, then you are likely to have an oily scalp. And if the skin doesn't show signs of oil or dryness, it is a normal scalp. Now, let's find out which shampoo is right for each type of scalp!
Oily scalp
An oily scalp makes your hair look greasy if not washed within two to three days. Thus, you must regularly wash your hair and scalp using the Sebamed Everyday Shampoo. For oily scalp,
Sebamed has developed the Everyday Shampoo which washes off excess oil from the scalp and keeps it well-hydrated. It contains mild active agents that clean your scalp while keeping it adequately moisturized. This shampoo has been meticulously developed with the ideal pH of 5.5. At pH 5.5, the sebum production in your scalp is regulated and your scalp remains healthy.
Dry scalp
If you often struggle with itchiness in your scalp, you probably have a dry scalp. The best way to restore a dry scalp is to keep it moisturized and maintain the ideal pH of 5.5.
At Sebamed, we have specially formulated the Anti-dry Revitalizing Shampoo for dry scalp. It contains a plant-based formula to relieve itchiness, irritation, and scalp dryness. Additionally, this shampoo for dry scalp is free from sulphates and parabens. Thus, it is completely safe for your hair and scalp.
Dry scalp with dandruff
Excessive dryness in the scalp often leads to dandruff, which comes with white flakes and itchiness. One of the biggest challenges while treating dandruff is that it doesn't go away at once. You may try out various remedies but it often comes back.
To help you get rid of dandruff once and for all, we have developed the Sebamed Anti-dandruff Shampoo with pH five point five. At pH 5. 5., your scalp is well-protected against dandruff- causing bacteria. The Sebamed Anti-dandruff Shampoo for dry scalp also contains Piroctone Olamine to relieve itchiness, irritation and other dandruff-related concerns.
Normal scalp
A normal scalp has the perfect amount of oil at the surface. It is neither too dry nor too oily.
If you have a normal scalp, Sebamed's Anti-hairloss Shampoo with pH 5.5 will prove to be the ideal choice for you. It is a mild shampoo that cleans your scalp without causing dryness or damaging the natural protective barrier. It will also help you prevent hair fall and strengthen your hair follicles.
Sensitive scalp
Sensitive scalp is seen in babies more than adults. This is because babies tend to lack the layer of acid mantle which protects their scalp from external aggressors. Hence, their scalp needs extra care and nourishment.
At Sebamed, we have developed a Children's Shampoo with pH 5.5. This baby shampoo for hair growth is free from toxins and has been clinically proven to be safe for babies. Also, its no-tears formula ensures that your baby's eyes are never hurt while washing their hair.
Conclusion
As you've now discovered the ultimate shampoo for your scalp type, you can now begin your hair care journey. So, take the first step today. Visit the product section of the Sebamed website and get your hair care essentials right away.