Getting rid of dandruff and increasing hair volume with anti-dandruff shampoo
by Sebamed | Aug 24, 2022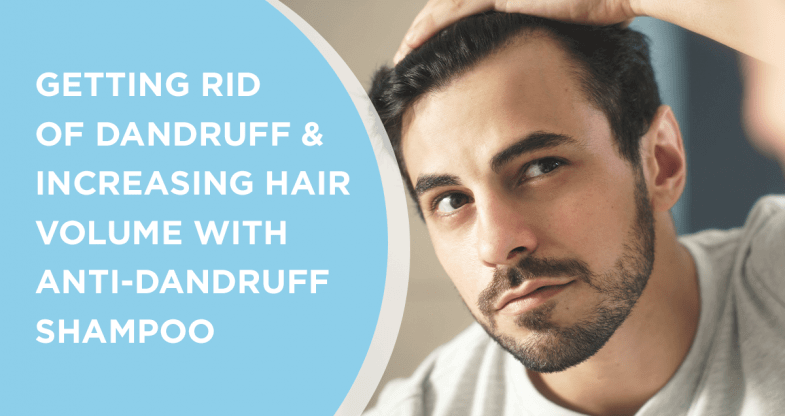 People could be flaky, but your scalp clearly shouldn't! Getting rid of dandruff is a very annoying and embarrassing problem to deal with, especially when you don't know what is causing you to have dandruff. While the occurrence of dandruff is natural, it can also be uncomfortable and irritating. There is no relevance to the number of times you wash your hair. It concerns your scalp instead. This blog will tell you how to get rid of dandruff effectively and quickly to avoid any future embarrassment.


How dandruff happens
Dandruff is caused by many factors. Sebaceous gland secretions, a fungus colonising your skin's surface, not shampooing frequently enough to allow skin cells to build up in your hair and scalp and produce flakes and itching, or over shampooing and overdrying the scalp, Excessive brushing of the hair on the head, excessive sun exposure, excessive pressure from hats on the scalp, and exposure to dust or dirt can all lead to dandruff.
Should you consult a dermatologist for dandruff?
Although you normally don't need to contact your dermatologist if you have dandruff, you should if:
Your symptoms haven't improved after using dandruff control shampoos for at least a month;
Your dandruff is extremely bad, or your scalp is extremely itchy;
Your immune system is compromised;
Your scalp appears red or inflamed.
In these extreme cases, visiting a dermatologist is your best bet as not even the best anti-dandruff shampoo will help in this case.


Also Read: Hair Care Regime for Men
How to treat dandruff
Dandruff can be a very big issue but it can be treated with the right products and with the right care and advice given. Dermatologists recommend washing your hair and scalp with soaps and shampoos that are not too harsh on your skin but just enough that they will cleanse out all of the dry skin, dirt and grime that is stuck on your scalp. There are a lot of anti-dandruff shampoos and soaps available on the market right now, most of which claim to be the best solution to treat dandruff. The Sebamed range of haircare and skincare products come highly recommended as all of their products have been dermatologically tested and are also trusted by consumers around the world. The Sebamed Anti-Dandruff Shampoo is a dandruff control shampoo which is soap and harsh detergent free and that has been formulated to ensure deep-pore scalp cleansing to remove excess sebum, which helps in the growth of dandruff-causing fungi. It is in many people's opinion, the best anti-dandruff shampoo.


How to increase hair volume
Even if you get rid of dandruff, it won't have any effect on your hair's volume. Genetics plays a role in determining hair thickness. Thin hair should always be cleaned with a light shampoo because it is delicate and vulnerable to dehydration and structural damage. Cleaning it with the right shampoo will allow you to treat dandruff but malnutrition, sickness, medicine, ageing, hormones, and other factors can all cause changes at the hair root that might cause problems with hair development. So, as you can see even if you implement the best way to get rid of dandruff, it won't do your hair volume any good.
This blog will guide you about all the tips, tricks and products that will be helpful to you and tell you how to get rid of dandruff. The Sebamed range of products come highly recommended as they combat the problem of dandruff head-on and treat the problem at its root, which is your scalp! Using its power of pH 5.5, Sebamed will leave your scalp feeling clean and refreshed for whatever you throw at it and get rid of dandruff easy-peasy!