Sebamed Easy-to-follow Haircare Regime for Men
by Sebamed | Mar 17, 2022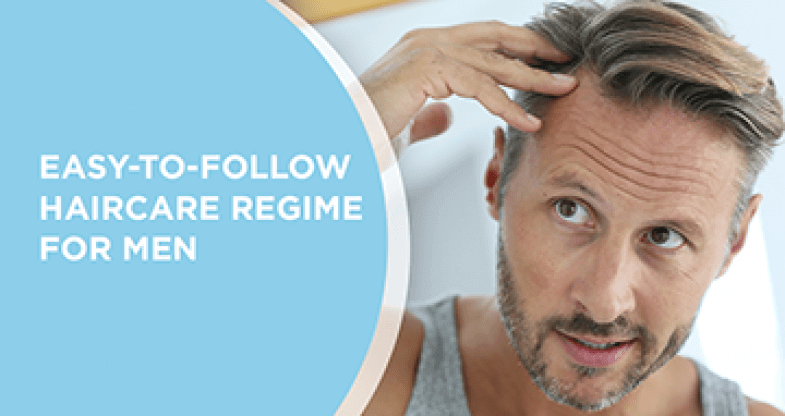 Haircare is an essential part of personal hygiene. While most women indulge in intricate haircare regimes, men may find it slightly difficult to keep up with it.
Every day, your hair is exposed to dirt, pollution, a host of other toxic substances. This could damage your hair follicles and cause various issues like hair dryness, hair fall, and dandruff. Thus, an effective haircare regime is important to keep your hair healthy at all times. It not only helps you prevent hair problems but also supports hair growth.
Wash your hair at least twice a week The Sebamed Hair Care Routine for Men
In this blog, we are sharing a simple, easy-to-follow haircare routine that's ideal for men. We will also get you acquainted with the Sebamed haircare products for men and help you incorporate them into your daily haircare regime.
The Sebamed Haircare Routine for Men
The key to building a long-lasting haircare habit is to start small. That's why we are providing you with a mini haircare routine to get you started. So, dive right in!
Wash your hair regularly
Maintaining hygiene is the first step to caring for your hair. Thus, keeping your scalp and hair clean is a must. Wash your hair regularly using a gentle cleanser like the Sebamed Everyday Shampoo. It helps you remove all the toxins from your scalp.
The Sebamed Everyday Shampoo is free from parabens. Thus, it is safe for your sensitive scalp and hair. Its ideal pH value of 5.5 promotes the natural barrier function of your scalp and helps to keep your hair strong, healthy, and smooth.
Massage your scalp
Scalp massages are yet another important aspect of your haircare regime. It regulates the flow of blood in your scalp and nourishes your hair from the roots.
If you're struggling with dry hair, scalp massages are a must because they provide your scalp with adequate hydration. The best time to indulge in a massage for you is the night before washing your hair.
Simply, apply some oil to your hair and scalp, and use the tip of your fingers to massage gently. The next day, wash your hair using the Sebamed shampoo for dry hair.
The Sebamed Anti-Dry Revitalizing Shampoo removes excess sebum and dirt, repairs damaged hair cuticles, and revitalizes your hair. It contains three plant-based conditioners that rejuvenate your hair and ensure naturally shiny hair. Additionally, it is also formulated with the ideal pH of 5.5. Thus, it's the ultimate shampoo for dry hair.
Comb your hair gently
Brushing your hair is a minute but important part of your haircare regime. Combing your hair properly stimulates the blood flow in your scalp and supports hair growth. On the other hand, brushing your hair harshly could lead to hair fall.
If you have been noticing too many hair strands on your brush, maybe it's time to change the way you comb. Try using a brush that has soft bristles.
In case your hair fall problem persists, treat it using the Sebamed Anti-Hairloss Shampoo. It contains the NHE formula with Caffeine and Ginkgo Biloba to improve your hair structure. Formulated with the ideal pH value of 5.5, this is one of the best anti-hair fall shampoos.
Conclusion
As you are now aware of the ideal haircare regime, it's time to put it into practice! Begin your haircare journey with the goodness of pH 5.5. Visit Mywellnesskart and order the Sebamed haircare products for men.