Factors Responsible for Acne Among Adults
by Sebamed | Jul 21, 2022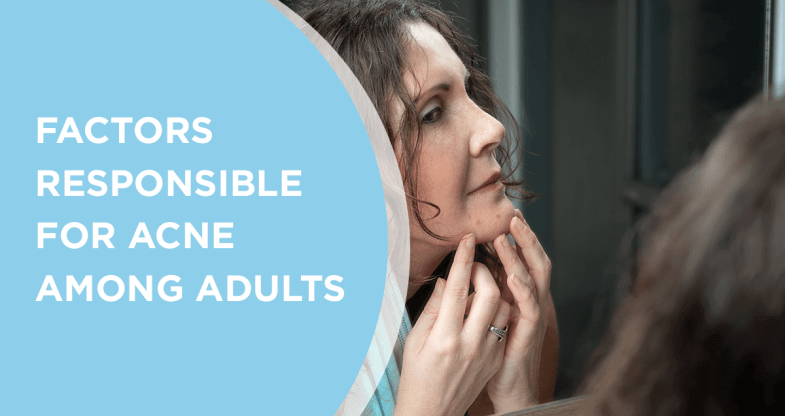 Acne is one of the most common skin problems which affects adults across the country. It grows and develops on your face when sebum (an oily substance that lubricates your hair and skin) and dead skin cells clog your hair follicles.
Are you also struggling with acne? Are you looking for some suitable acne products and an anti-acne face wash? If yes, then just read along. In this blog, we will highlight the factors that can cause acne while also proposing some solutions that can help you deal effectively with the same.
How you can effectively deal with acne
Let's look at a few factors that can cause acne and how you can control your breakouts by using a medicated acne face wash, including the ones from Sebamed.
Hormonal changes
Most of us struggle with acne issues due to hormonal changes. In women, hormonal factors linked to estrogen and progesterone are some of the common reasons for acne breakouts. Invest in the best acne face wash for women to help you deal effectively with the same.
The same is even applicable in case of men. When you are young, the body produces high levels of testosterone. This signals the body to produces excess sebum and can eventually lead to acne breakouts. Invest in a good men's acne face wash to deal with this excess oil production effectively.
Oil-based beauty products
Lotions and various other beauty products can be responsible for your severe acne. The sulphates, silicones, mineral oil present in them can clog your pores and further worsen your acne. This needs more precaution if you are looking for skincare products for oily skin. A good option would be to always invest in an oil-free acne face wash. It will help to control the excess oil production and will also keep your skin hydrated.
Also Read: What are the common skin problems faced by men and how to treat them?
Be mindful with the usage of a moisturizer
While you are being wise with your face wash for acne and pimples, do remember to take precautions with a moisturizer as well. While a moisturizer can keep your skin hydrated throughout the day, ensure that you do not overuse it. It is always best to go a little easy with the moisturizer. Choosing moisturizers for acne prone skin can be tricky! That's because oil is already present on your skin. Using the moisturizer frequently can cause your sebum production to increase. To ensure that this doesn't increase your breakouts, it's best to select an oil-free moisturizer.
Use a face wash suitable for acne
Want to invest in a good face wash for acne and pimples? Tired of looking for various options as they don't give your results? Try using Sebamed's Clear Face Cleansing Foam. The refreshing foam removes oil while its special formula fights the acne-causing bacteria without making the face red or shiny. It must be your go-to option if you are looking for a face wash for oily skin.
Not adding an acne prone face gel
Don't forget to add the right face gel to your kit, along with a medicated acne face wash. It can help you control the excessive oil, dirt, and impurities that are present on your skin. Still searching for a good option? Check out Sebamed's Clear Face Care Gel. Use it after using your acne face wash for removing the impurities. It has excellent skin tolerance and is free from irritants like parabens, paraffin, etc. It ensures that the growth of acne-causing bacteria declines and makes your skin soft and supple. It's the perfect skincare product for oily skin.
Popping your pimple
Whenever there is an acne breakout on your skin, do you panic and pop it? If yes, then you are making a grave error. Rather than popping, use a good anti-acne face wash on your skin. It will give you some relief from dryness and itching. Every time you pop the pimple, the bacterial infection spreads more under your skin and can cause more blocking, swelling, and redness. This can multiply the pimples on your face. It will also most likely leave you with scars. The best answer is to always choose the best acne face wash for oily skin and add it to your everyday routine.
Think you have been making these mistakes? Then start rectifying them now! Here's what we would like to suggest: every time you step out, remember to carry an anti-acne face wash and follow your skincare routine. Are you thinking about where you can find safe and skin-friendly products? Worry no more! Just head to Sebamed's website and check out our pH-balanced acne face wash, right away!