What are the common skin problems faced by men and how to treat them?
by Sebamed | Mar 28, 2022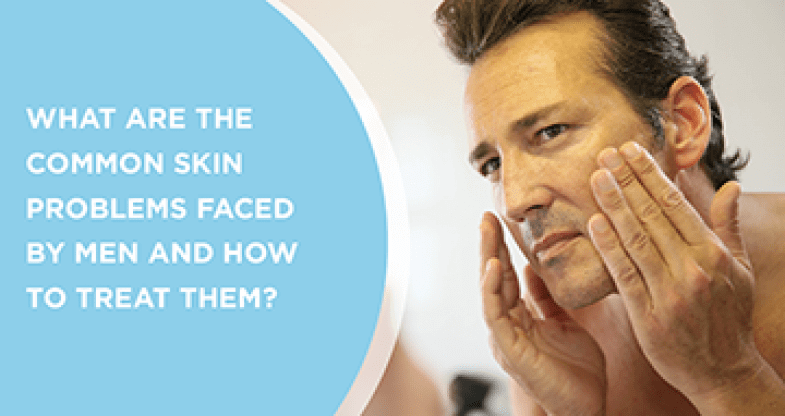 While most men may not actively indulge in a beauty routine, their skin certainly needs care and attention to stay healthy and free from problems.
In this blog, we will discuss the skin problems faced by men and provide you with easy ways to treat them. We will also explain how Sebamed skincare products for men can help you care for your skin. So, let's get started right away!
A man's skin is 20 percent thicker than that of a woman's.
Top Skincare Problems that Men face
Acne
While acne is popularly associated with teenagers, adult acne is very common in men. This is because their skin has more sebaceous glands and it may lead to excessive sebum production. Oily skin coupled with sweat, dirt, and pollution can result in acne flare-ups.
The best way to prevent acne and ensure oil-free skin is by washing your face regularly with the Sebamed Clear Face Cleansing Foam. It is formulated with pH 5.5 to maintain the hydro-balance of your skin. It also contains Montaline C40 as an active ingredient to combat pimples and skin impurities.
Chapped lips
Lip dryness is a common problem seen in men and women alike. It could be caused due to dehydration, excessive sun exposure, or licking the lips frequently. The ultimate solution for this is to use an effective lip balm for men.
For instance, the Sebamed Lip Defense is highly recommended as it offers triple protection – It regenerates dry lips with vitamin E, protects your lips from UV rays, and keeps your lips soft and supple with plant extracts. Thus, it is one of the best lip balms for men.
Eczema
While eczema is usually seen in children, a number of men also face this skin condition. It is primarily associated with dryness, itchiness, and skin redness. It could be triggered by environmental factors, hormones, or harsh products as well.
Before trying out any solution, check if you have been using skincare products that contain irritants, or high amounts of alkaline. If this is the case, switch to a gentle body wash or shower gel for men. Try out a soap-free cleanser like the Sebamed Liquid Face and Body Wash. It does not contain parabens, irritants, or other such toxic substances.
Razor burns
As most men shave regularly, their skin undergoes a lot of stress. The use of sharp razors can cause cuts, scars, and irritation. This could even make their skin more sensitive. Thus, it is recommended that you use the Sebamed Moisturizing Cream after shaving. It will help soothe your skin and keep it well-hydrated. It is rich in vitamin E and is suitable for sensitive skin.
If you are struggling with any of the skin problems mentioned above, let Sebamed skincare products for men come to your aid! Visit the Mywellnesskart website and order your skincare essentials right away.