Why Should Parents Place Their Trust In Sebamed Baby Products.?
by Sebamed | Jul 19, 2023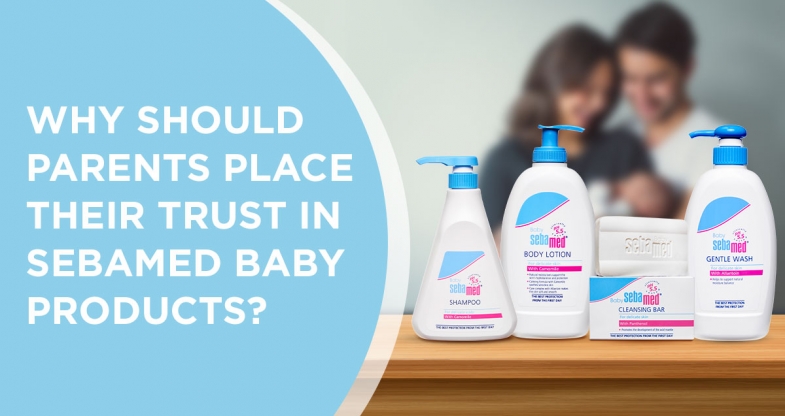 As a parent, you leave no stone unturned in taking care of your newborn. Even when it comes to your baby's delicate skin, you make sure that you use safe and effective products. We, at Sebamed, understand your concerns and bring you clinically tested baby care products that have garnered the trust of parents across the globe. Each product in our extensive baby care range has been meticulously formulated with the ideal pH value of 5.5, which is perfect for your baby's skin.
In this blog, we'll help you understand why Sebamed baby care products are reliable and provide the best care for your little one. So, let's get started!


How do you know that the Sebamed products are right for your baby?
Sebamed is a German skincare brand that has over 50 years of experience in making products that are perfect for your baby's skin and hair. We have been catering to various skin types across the world and are widely recognized for pioneering products that contain the ideal pH value of 5.5. Here are some of the reasons why you should place your trust in Sebamed products -
The ideal care of pH 5.5
After decades of research and experimentation, we have formulated products with pH 5.5, which is precisely the ideal pH value of your baby's skin. At pH 5.5, your baby's skin remains adequately moisturized, hydrated and well-protected against environmental aggressors. It is also crucial in maintaining the skin's natural protective barrier called the acid mantle. Thus, we ensure that every Sebamed product has an exact pH value of 5.5.


The Sebamed skin and hair care products are infused with the goodness of natural ingredients such as chamomile, honey, and various oils. Thus, they help you nourish your baby's skin and hair without any risk of damage.
No parabens or toxic substance
Sebamed baby care products are 100% alkali-free. This means that they do not contain soap. Regular soap bars have a high amount of alkali that causes dryness and breaks down the natural protective barrier of your baby's skin.

Besides that, our products do not contain any toxic substances like parabens or phthalates that could trigger irritation and skin problems. Therefore, the Sebamed baby skin care products are completely safe for your little one.
Clinically proven and recommended by doctor
Sebamed baby skin care products have been developed with the expertise of world-class dermatologists. The efficacy of Sebamed baby care products has been published in over 120 research papers. It is endorsed and recommended by doctors across the globe. Thus, you can be completely assured about these products.
So, visit Mywellnesskart to find out all the details about Sebamed baby care products.