What's the right way to bathe your baby in winter?
by Sebamed | Feb 1, 2022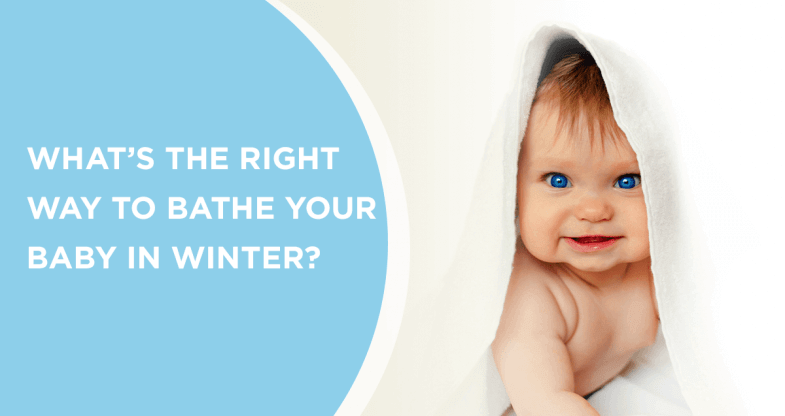 How to give your baby a bath during the winter months?
As the temperature outside takes a dip, your first concern is how to keep your little one healthy and comfortable during the winter months. You might find yourself wondering about the different ways to keep your baby warm, especially during their bath time. It is crucial to keep an eye on your baby during bath time, particularly during winters when your baby is quite susceptible to falling ill. Read on to know the right way to bathe your baby in the winter months!


In winters, you can bathe your baby once in every two or three days
Prep the bathroom
Before you start undressing your little one for a bath, make sure you prepare the bathroom and the bathtub before. Be sure to double-check that all the windows are shut before bringing your baby to the bathroom.
Check the temperature of the bath water
Who doesn't enjoy a long hot shower during winter! However, do not bathe your baby with excessively hot water. Hot water can quickly dry out your baby's skin. Therefore, it is recommended that you use lukewarm water only. After filling the bathtub, check the temperature of the water. The ideal temperature for your baby's bath water is around 35-38oC. Do not fill the bathtub to the brim. The level of water in the bathtub should not go beyond your baby's chest.
Gather all your baby's bath products
As always, you must keep all the bath time supplies and a fresh diaper ready before you put your baby in the bathtub. Keeping your baby's body wash, shampoo, towel, and other bath products within an arm's reach is immensely helpful. It prevents you from hunting for supplies later, and you do not have to leave your baby unattended at any point. You should also lay out your baby's clothes near the bathtub so that your little one does not have to stay undressed in the cold for a long time.


Make your baby's bath time enjoyable by putting a waterproof toy in the bathtub.
Do not prolong your baby's bath time
Do not keep your baby in the water for too long because your baby's skin starts getting dry, especially during winters. Your baby's bath time must not exceed beyond ten minutes. Your baby's soft skin is extra-sensitive in the cold winter weather. Most cleansers in the market contain soap, alkali, and harmful chemicals that contain high pH values. These harsh cleansers disrupt the natural protective barrier of your baby's skin, and make their soft skin dry as well as dehydrated. So, be sure to use natural, toxin-free products only that do not cause adverse reactions to your little one's delicate skin.
Place your trust in a gentle and nourishing cleanser like the Sebamed Baby Cleansing Bar which is formulated with the ideal pH of your baby's skin. What makes Sebamed better than other products is that it is created with a pH value of 5.5 and this is essential in maintaining the healthy hydrolipid balance of your baby's skin. It also regenerates the acid mantle, thereby keeping dryness away. This cleansing bar is clinically tested by dermatologists, and contains no soap, alkali and toxic chemicals that affect your baby's skin.

The Sebamed Baby Cleansing Bar contains amino acids and Lecithin that nourish your baby's skin.
You can make your baby's bath time a little more fun during winters by giving them a cosy bubble bath too! Get your hands on the Sebamed Baby Bubble Bath - an extra mild cleansing body wash for your baby. Just put a few drops in lukewarm water and create some foam. This is a tear-free body wash that cleanses your baby's sensitive skin without washing away the natural lipids. It also contains the ideal pH value of 5.5 which promotes healthy skin balance.
Moisturize your baby post-bath
After the bath, immediately wrap your baby in a clean, big towel. Make sure you dry your baby's body thoroughly, particularly the head, before dressing them up to prevent them from catching a cold. After drying your baby, apply a good, non-greasy moisturizer like the Sebamed Baby Lotion to your little one's skin. The allantoin and chamomile ingredients soothe your baby's skin, and the pH 5.5 helps to protect their skin's acid mantle. You should also apply a good diaper rash cream to prevent inflammation in the diaper area before putting a clean diaper on your baby.

After a nice bubble bath, be sure to gently apply the Sebamed Baby Lotion on your baby.
Dress up your baby in soft and warm clothes right after moisturizing. When it comes to your baby's bath products like shampoo, body wash, or cream, place your trust in Sebamed. All Sebamed products are clinically tested by leading dermatologists and contain the ideal pH value of 5.5, making them extremely safe for your baby's delicate skin. You can purchase all the Sebamed products directly from their website, Mywellnesskart!