What causes a dry scalp and how to deal with it
by Sebamed | Feb 1, 2022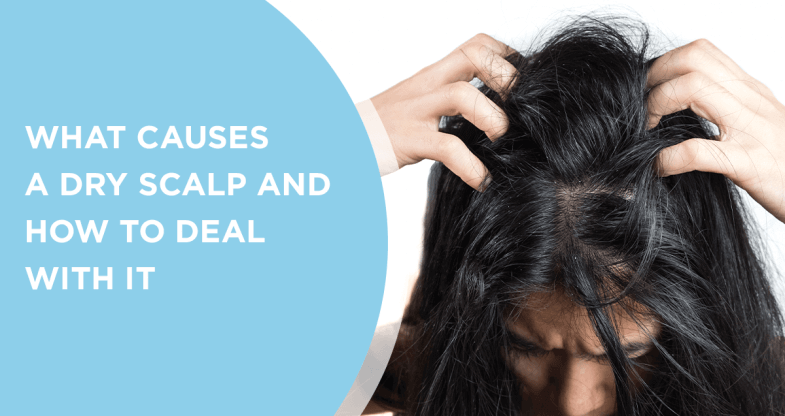 When it comes to your hair, you make sure to look after its growth, density, shine, and every little change. But how often do you observe your scalp condition? Just like your hair, your scalp also needs care and efforts to stay healthy. Especially during the winter season, scalp dryness is one of the most commonly faced problems. If you aren't fully aware of scalp dryness, you need not worry!
In this blog, we will delve deeper into the problem of scalp dryness. We will also provide you with some of the most effective solutions and Sebamed shampoos for dry scalp that you can find on Mywellnesskart.


Washing your hair with excessively hot water could dry out your scalp.
What is scalp dryness?
A dry scalp lacks adequate sebum. It is a condition wherein the scalp is unable to hold moisture. This usually happens when the natural protective barrier of your scalp, called the acid mantle, is disrupted. It further leads to an increase in the scalp's pH value, causing dryness, itchiness, and redness. Thankfully, the acid mantle can be repaired when the pH level of your scalp is restored to its ideal value. This can be achieved using pH balanced shampoos.
Scalp dryness could also be a symptom of dandruff or other medical conditions like psoriasis, eczema, or dermatitis.
What causes scalp dryness?
Before jumping on to try out remedies and shampoos for dry scalp, it's important to understand the root cause behind it. Here are some of the common causes for scalp dryness -
Harsh hair products
If you've been wondering what led to your dry scalp, your hair products may have a role to play. Regular shampoos may contain high amounts of alkali, which can strip off the natural moisture of your scalp and cause dryness.
Skipping head massages
Have you been missing out on oil massages lately? Chances are that it led to a dry scalp. Applying oil to your scalp keeps it adequately hydrated and well-nourished. So, make it a point to indulge in a massage regularly.


Seasonal effect
During the winter season, the cold, dry air can trigger moisture loss in your scalp, and result in dryness and dandruff. If you've been struggling with dandruff problems, try out the Sebamed Anti-Dandruff Shampoo. It contains Piroctone Olamine to soothe irritation.


Nutritional deficiency
Have you been skipping meals due to a hectic WFH routine? Your dry scalp could also be a result of nutritional deficiency. Just like the other parts of your body, your scalp also requires vitamins and minerals to stay healthy.
Medical conditions
A dry, itchy scalp could also be a symptom of a severe medical condition. If it lasts for more than two weeks, seek professional assistance immediately.
How to treat scalp dryness?
The best way to treat scalp dryness is by maintaining the ideal pH value of 5.5. At pH 5.5, the sebum production in your scalp is regulated and the protective acid mantle is restored. Along with keeping your scalp's pH in check, here are some of the things you could do to treat scalp dryness:
Keep your scalp clean and hydrated
Hygiene is the first step to taking care of your scalp. Wash your hair and scalp daily with the Sebamed Anti-Dry Revitalizing Shampoo. It has been formulated with three natural conditioners to repair damaged cuticles, soothe scalp irritation, and relieve scalp dryness. In fact, it has been clinically proven to reduce scalp dryness by 49 percent in three weeks.

Switch to toxin-free hair products
If you have been experiencing excessive itchiness, hair loss, and scalp dryness, it could possibly be an allergic reaction caused by harsh chemicals in your products. Make sure you use mild products that do not contain any parabens, phthalates, or other such toxic substances.If you have a sensitive scalp, you can place your trust in the Sebamed Anti-Hairloss Shampoowhich is formulated with the ideal pH value of 5.5.


Maintain the right pH of your scalp
Your scalp is at its healthiest when its pH balance is maintained. This is because the pH of your scalp is 5.5. In maintaining your scalp's pH at 5.5, the protective barrier called the acid mantle, remains intact. When this acid mantle is eroded or damaged problems like dryness, etc. arise. Using shampoos and products of the same pH value as your scalp, like the Sebamed Everyday Shampoo, will help you restore this pH balance. In doing so, your scalp gets well-moisturised, and keeps dryness at bay.


While treating a dry scalp may seem difficult, making small lifestyle changes could also make a big difference. So, make sure you drink plenty of water, eat nutritious food, and sleep well. Along with this, pay a little more attention to your scalp and restore its pH balance using the Sebamed shampoos. You can easily order them online from Mywellnesskart.