Top Five Summer Hair Problems and their Solutions
by Sebamed | May 11, 2022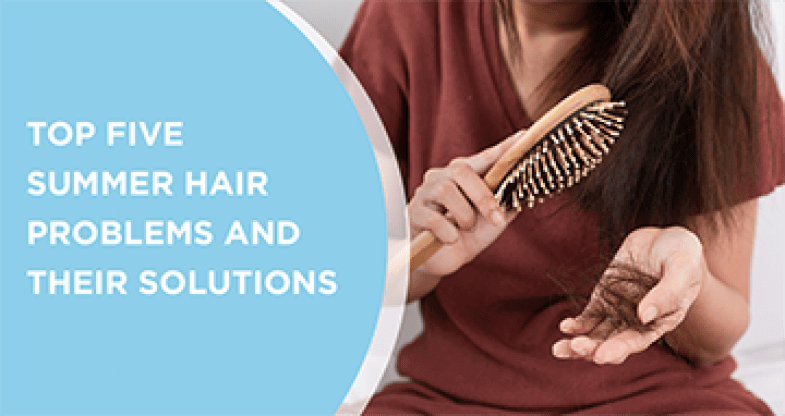 With the onset of the summer, we're sure you're ready to cherish the warmth of the season. However, you must also remember that the hot weather can bring up an array of hair problems.
In this blog, we'll get you acquainted with summer hair problems and share tips to deal with them. We'll also introduce you to the Sebamed hair care products that you could use to resolve your hair concerns.


Wash your hair at least thrice a week using the Sebamed Anti-hairfall Shampoo
Common Hair Problems in Summer
During the summer season, the UV rays of the sun, sweat, and high temperature can take a toll on your scalp and cause a myriad of hair problems. Here are some of them -
Hair fall
In the summer season, extreme heat can rob off the moisture from your hair, leaving it dry and prone to breakage. Additionally, chlorinated water from the swimming pool can further damage your scalp and trigger hair fall.
The best way to control hair fall in summer is to wash your hair using the Sebamed Anti-hairfall Shampoo.
It stops hair fall by increasing the blood circulation in your scalp and providing extra nutrients and oxygen to the hair follicles. This anti-hairfall shampoo contains a special NHE formula along with Gingko Biloba and Caffeine to stimulate hair growth and improve hair structure.

Greasy scalp
Due to the hot weather and excessive sweating, your scalp may feel more greasy than usual. But there's nothing to worry about as it is very normal. Whenever your scalp feels too oily, just wash it using a gentle cleanser like the Sebamed Everyday Shampoo.
It is a soap-free cleanser that has been formulated with the ideal pH value of 5.5. That means it will not dry out your scalp even if you wash your hair every day. At pH 5.5, your scalp remains hydrated and healthy.

Frizzy hair
Frizzy hair is one of the most common hair problems faced in summer. Due to excessive humidity, your hair shaft absorbs too much moisture from the air and disrupts the chemical bond that ensures smooth hair. As a result, your hair becomes hard to manage and feels dry. This makes it extremely difficult for you to style your hair.
The best way to deal with frizzy hair is to use an effective shampoo for dry hair. For instance, the Sebamed Anti-dry Revitalising Shampoo with pH 5. 5 has especially been formulated with three natural conditioners to repair the structure of your hair, reduce frizziness, and ensure soft and shiny hair.

Dandruff
While dandruff is more prevalent in winters, it can even affect you during the summer season. The accumulation of sweat, dirt, and sebum on your scalp creates the ideal environment for dandruff-causing bacteria. It further leads to scalp irritation and itching. So, make sure that you take actions to prevent summer dandruff.
Wash your hair regularly using the Sebamed Anti-dandruff Shampoo formulated with pH 5.5. At pH 5.5, your scalp's natural protective barrier is maintained and it helps you keep bacteria at bay. This shampoo also contains Piroctone Olamine to soothe your scalp and reduce itchiness, irritation, white flakes, and other dandruff-related symptoms.

You can count on Sebamed to fulfil all your summer hair care needs, be it a shampoo for dry hair or one to manage your hair fall. Step out in the sun without worrying about your hair problems. Visit the products section of this website to order your hair care products now!