Top 4 Skincare Gifts for Dads: Pamper Your Fathers on Father's Day
by Sebamed | Jun 16, 2023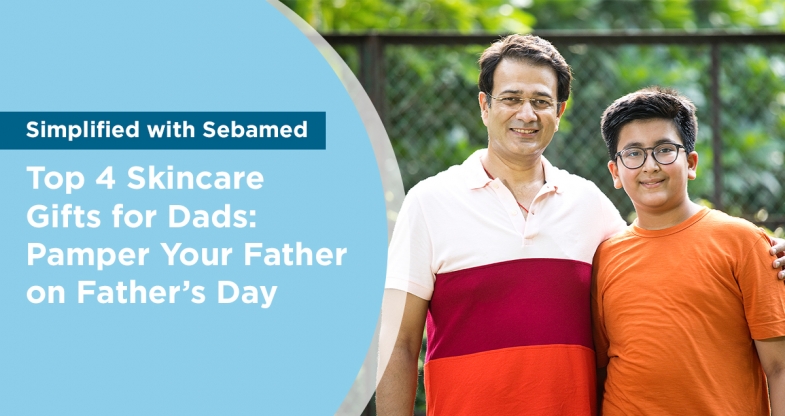 Did somebody ask you about the best gift ideas for their father? Or have you gotten busy scrolling for the best Father's Day gifts? Father's Day is around the corner and choosing the perfect gift for your dad is not easy. They do so much for us without asking for anything. And gifting them something straight from your heart is the best rendition of your love for them. Instead of buying them a stereotypical set of golf clubs, tie, or shaving kit this year, why not treat your dad to the gift of healthy skin? Before we share some best Father's Day gifts for dad, let's know about this day in detail.
What is Father's Day?
Father's Day is celebrated worldwide to recognize and honor the efforts and sacrifice of fathers for their kids. Observed on the third Sunday of June, this day symbolizes male parenting and fatherhood in its truest sense. The credit for the celebration of Father's Day goes to Sonora Smart Dodd of the US, whose father, a civil war veteran, raised her and her 5 siblings on his own after their mother died during childbirth. Father's Day 2023 will be celebrated on June 18.
A bond so special that it can't be explained in words
What Gift Should I Give to My Father on Father's Day?
While every day is a great day to express your love for your dads, Father's Day comes as an excuse to give them something extra special. Fathers seem to have everything, and choosing the perfect gift for your dad is nearly impossible. One of the best Father's Day gifts that is of utmost importance to them is the gift of skincare. Be it giving them sunscreen to protect their skin from harmful UV rays or a moisturizing cream to pamper them, fathers deserve the gift of happy and healthy skin, and you deserve the best gift ideas for your father.
Skincare is the perfect gift for your dad
4 Father's Day Skincare Gift Ideas
Father's Day 2023 is about to come, and it's time to make your dad feel special. After all, they deserve all the pampering and care. When it comes to choosing the perfect Father's Day gift for dad, giving them the gift of skincare is just perfect. While you browse through thousands of skincare options to gift your dad, here we are dropping one of the best skincare products.
1. A Face-Cleansing Bar
A face-cleansing bar is one of the best and most important skincare gifts to give your dad. Being a perfect blend of lecithin, vitamins and amino acids, the Sebamed Clear Face Cleansing Bar rebalances stressed skin and its mild pore-deep cleansing removes excess sebum, thereby reducing pimples and blackheads.
It's free from harsh soaps, irritants and oil
2. A Multi-Protect Sunscreen
Most dads don't use sunscreen as they consider sunscreens to be a woman's thing. But they are the ones who stay out in the sun most of the time. This Father's Day 2023, protect their skin from the harmful UVB rays of the sun with Sebamed Multiprotect Sunscreen SPF 50 Plus. It contains a hydrating complex of vitamin E and panthenol which improves the elasticity of photo-damaged skin.
A shield to protect your father's skin from the sun
3. A Moisturizing Face and Body Wash
One of the most nourishing skincare gifts to give your father is Sebamed Liquid Face and Body Wash. Free from soap and alkali, it nourishes the skin from its core, thereby helping it heal itself.
The secret to healthy and hydrated skin
4. A Shower Gel
After a long tiring day, giving a refreshing shower gel like the Sebamed Fresh Shower is the Father's Day gift. It hydrates, refreshes and cleanses the skin, thereby making you feel fresh.
The perfect shower gel in today's stressful world
Conclusion
If anybody asks you about the best gift ideas for father, suggest them the gift of skincare. As much as you need to take care of your skin, your father needs it too. Visit our website to shop the best skincare gifts for your father and curate their gift set like never before.
Products mentioned in the blog: