Sunscreen Lotion and Skin Cancer: Understanding the Connection and Staying Safe
by Sebamed | Apr 6, 2023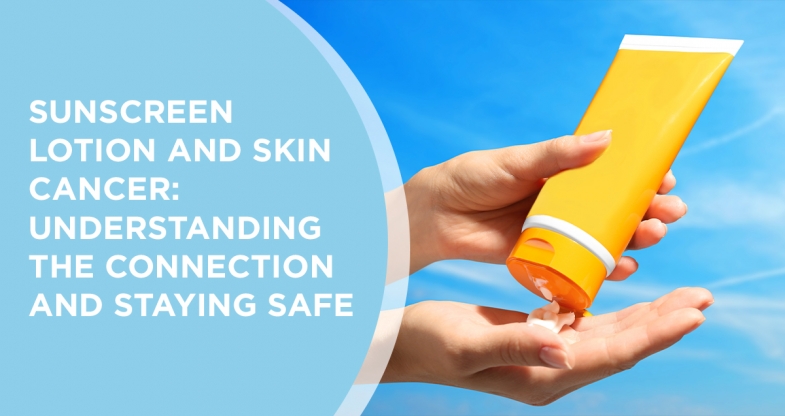 Too much exposure to sun is never good for your skin. That's because UV rays coming from the sun can damage your skin. If you are overexposed to the ultraviolet rays coming from the sun, you might even end up with skin cancer and other similar skin problems. That's why you should use sunscreen lotion to ensure sun protection for your skin.
Index [hide]
About Sun Protection - Cancerous Chemicals Found in Sunscreens
Using sunscreen is a must when spending time out in the sun
Sunscreen lotions can create a barrier in between your skin and UVA/UVB rays coming from the sun. As a result, you can minimize the chance of sun creating a damaging effect on your skin. However, recent studies have found that some sunscreens contain cancer-causing chemicals that could do more harm than good. Some of these chemicals include oxybenzone, octinoxate, homosalate, and octocrylene. These chemicals have been linked to hormone disruption and skin irritation, and some studies have found them to be carcinogenic. This is why you should be careful to pick the best sunscreen, which doesn't have any of these harmful ingredients.
How Safe is Your Sunscreen? Is there a link between sunscreen and cancer?
The safety of sunscreens has been a topic of debate for many years. While they are designed to protect the skin from the sun's harmful rays with sun exposure, some have raised concerns about the potential link between sunscreen and cancer.
According to the Environmental Working Group (EWG), a nonprofit organization dedicated to protecting public health and the environment, about 75% of sunscreens contain harmful chemicals. These chemicals can be absorbed through the skin and enter the bloodstream, which can have negative health effects.
However, the American Academy of Dermatology (AAD) maintains that there is no evidence to suggest that sunscreen causes cancer. They point out that sunscreen has been extensively studied and has been shown to be safe when used as directed. You should still be careful when using sunscreen for sun protection. It is always a good idea to be on the safe side, instead of getting into trouble.
Sunscreen and skin cancer statistics
Understanding the relationship between sunscreen and skin cancer
After sunburn, Skin cancer is the most common form of cancer that you can find out there in the world, with over 10 million new cases diagnosed each year. While the majority of skin cancers are non-melanoma and can be easily treated, melanoma is a more dangerous form of skin cancer that can spread to other parts of the body.
According to the American Cancer Society, about 100,000 new cases of melanoma are diagnosed each year, and over 7,000 people die from it. The good news is that skin cancer is highly preventable, and using sunscreen is an effective way to reduce your risk of developing skin cancer. However, it is still important to be aware of the relationship between sunscreen and skin cancer. Then you may take the right decision and keep yourself safe from any skin damage.
If You Use Sunscreen, Can It Cause Cancer?
There is no evidence to suggest that using sunscreen can cause cancer. However, some studies have found that some of the chemicals found in sunscreens can be absorbed into the skin and may have negative health effects. People who have been using such sunscreen lotions say sunscreen causes cancer.
It is important to note that the benefits of using sunscreen far outweigh the risks. Sunscreen has been shown to reduce the risk of skin cancer, prevent premature aging, and protect against sunburn. Therefore, using sunscreen for sun protection is something that you can try without keeping a doubt in mind. There are many myths surrounding sunscreen and its potential link to cancer. Some of these myths include:
Sunscreen causes vitamin D deficiency

Sunscreen can result in cancer

Sunscreen is toxic and harmful to the environment
While there is some truth to these myths, they have been largely debunked by scientific research. Sunscreen does not cause vitamin D deficiency, as most people get enough vitamin D from their diet or supplements. Sunscreen has also been extensively studied and has been shown to be safe when used as directed. If you can stick to the best sunscreen in the market, there is no need to worry about anything. Sebamed Multiprotect Sunscreen is a great option available to consider out of them.
What are the benefits of using sunscreen?
Using sunscreen can be beneficial for your skin
You can experience numerous benefits when you are using the best sunscreen product. For example, it can reduce the chances of you becoming a victim of skin cancer. On the other hand, it can also prevent premature again. Exposure to the sun can also lead you to sunburn. Sunscreen can help you to ensure your protection against it.
With continuous use of sunscreen when going out, you can improve your skin tone and skin texture. Along with that, you can also overcome skin damage. On top of all these benefits, sunscreen can help you prevent all sorts of sun damage, such as hyperpigmentation and dark spots.
Best sunscreen to protect your skin this summer
You should stick to the right sunscreen in order to ensure maximum protection for your skin during summer months. This is where you need to take a look at the SPF (Sun Protection Factor) rating. Stick to a sunscreen that has at least SPF 50. It can provide maximum protection to your skin, while creating a stronger barrier on top of it. The sunscreen you use should also be water-resistant. Moreover, you need to ensure that the sunblock cream you use matches with the type of skin you have.
There is no direct relationship between using sunscreen and skin cancer. However, sunscreen can help you to prevent skin damage and skin cancers, which can take place due to continuous exposure to sun. You can buy the best sunscreen available out there, and experience maximum protection, along with many other benefits such as sunburn prevention.
Product Mentioned in the Blog-