Importance of Bathing your Baby
by Sebamed | May 16, 2022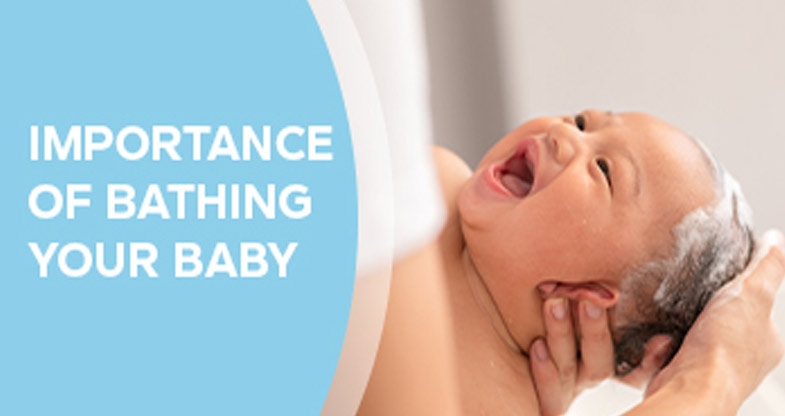 Your journey as a new parent can be tough and challenging. From sleep schedules to eating habits, playtime and bath time, there are a ton of things to be taken care of.
Amongst the various activities in your baby's routine, bath time can be slightly tricky in the initial months. However, as you begin understanding your baby's needs, it can prove to be a fun session with your little one. Make sure that you have a nonslip mat or pad and a bath thermometer (optional) to make your baby feel safe, warm, and comfortable.
In this blog, we'll take you through the importance of managing and following a proper baby bath time routine. We'll also introduce you to some of the Sebamed baby products that you could use while bathing your little one.
Make sure that you use lukewarm water for baby baths. The water temperature should be around 32.8° C
Here's why your baby needs a bath time routine
Every baby needs daily cleaning at least two to three times a week. Here, we are listing down the benefits of giving proper attention to your baby's daily bath routine.
Bathing keeps your baby clean and refreshed
Even though babies do not go out as frequently as adults, it is necessary that they take a bath every day. It is always better than just wiping them with a cloth after eating or cleaning them after changing their diaper. Regular baby baths help in controlling excess oil, moisturizing your baby's skin and preventing skin dryness.
We recommend using Sebamed's Baby Wash Extra Soft to bathe your baby. This Sebamed Baby Wash contains botanical ingredients and has an ideal pH of 5.5. It has also been developed with a no-tears formula which ensures that your baby's delicate eyes are not hurt or irritated.
Bath time helps you develop an emotional bond with your baby
Bath time can become a special bonding time in your baby's daily routine. It helps your baby get accustomed to physical contact and cherish the warm touch of their parents. Being face to face also ensures consistent eye contact and transcends into a positive connection between the two of you. Post bath, wrapping and drying your baby with a soft towel makes them feel safe, secure, and warm in your company.
Also Read: 7 things you must know about taking care of a newborn baby
You could make the bath time more enjoyable for your baby with some fun activities. Splashing and playing with water helps your baby understand the consistency of water. The use of toys while taking baby bubble baths makes your baby learn hand-eye coordination.
For a good bubble bath, you need to make use of a soap bar that can generate lather but also keeps your baby's skin soft. Hence, we've developed the Sebamed Baby Bubble Bath. It is an extremely mild foaming cleanser that doesn't dry out your baby's skin.
Bathing keeps your baby's overall health in check
Baths help to keep your baby's skin healthy. Their skin is very sensitive so you should avoid using soaps made for adults and make sure that you use the best baby soap and body wash for them. Bathing also helps you keep a check on the rashes and dryness of your baby's skin. So, don't miss out on it! Bathe your baby regularly using a gentle cleanser like the Sebamed Baby Cleansing Bar. It has the ideal pH of 5.5 as against other soap bars that have higher pH levels.
Conclusion
In the initial stages of their growth, you must take proper care of your baby's bath time routine to keep their skin soft and healthy. Additionally, you must also choose the best baby soap for their sensitive skin. So, wait no more. Visit Sebamed's website to order your baby's bathing essentials right away.