How to Remove Pimples and Get a Clear Skin Effectively
by Sebamed | Oct 26, 2023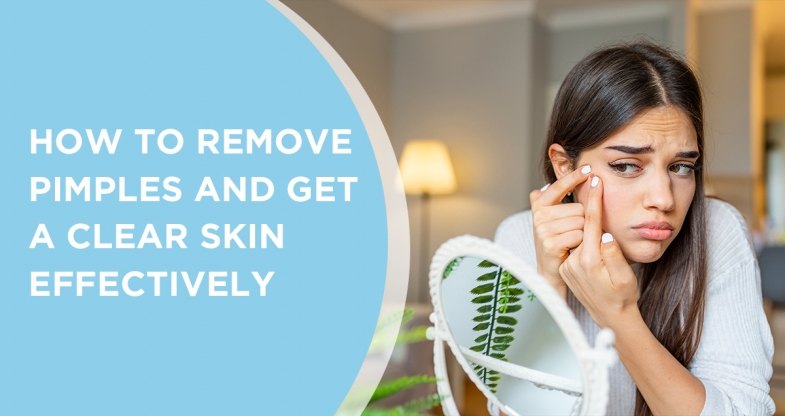 Pimples are a common skin problem and have a knack for notoriously appearing at inconvenient moments. You often find yourself wondering how to remove pimples quickly and without having them leave a mark. Irrespective of skin type, everyone has faced these issues with acne and pimples. So, let's discuss quick and effective pimple remedies for clear skin and which face wash is best for pimples.
Pimples are a common skin ailment for all skin types
Pimples and their Causes
Before we learn how to deal with pimples, let's understand what they are and what causes them. Pimples are clogged pores or hair follicles of oil, called sebum and dead cells. Clogged pores can form blackheads, whiteheads or pimples. Pimples appear as red bumps on the skin and can be painful.
Pimples are caused by many reasons, the most common ones being hormonal changes and excessive oil secretion. Sudden breakouts can be seen in women going through menopause, pregnancy or even during their monthly menstruation. This is due to a sudden rise in sebum secretion or dead cell accumulation. For people with oily skin, pimples are a fairly common occurrence.
Stress and diet are also two main reasons for acne in both men and women. While stress aggravates the existing breakouts, intake of oil and carbohydrate-rich food might make way for newer pimples. Exposure to pollution and harsh sunlight also results in sensitive skin that can have easy breakouts as the pores remain clogged and bacteria start building.
Pimples are a result of clogged pores and oil secretion

Pimples and Acne in Adolescence
Having acne and pimple breakouts is common during adolescence when there are many hormonal changes underway. Androgens are hormones that stimulate excess oil secretion from the sebaceous glands in boys and girls going through puberty which leads to clogged pores. As a result of more oil being produced, an overgrowth of bacteria occurs, which leads to the formation of pimples. While there are bacteria and oil cleansing options like soap or face wash for pimples, you can also resort to natural techniques based on your skin type.
Battle Pimples Effectively
A looming question that we all face is how to remove pimples and pimple marks from the face. Since pimples are a common skin problem, there are a lot of treatments available in the market and the skin treatment industry. But it is important to use products which are safe and do not react harshly with your acne-prone skin.
Here are some safety tips to treat acne effectively!
1. Oil control cleansing face wash-
Many face wash options for various skin ailments exist. But when we focus on the question- of which face wash is the best for pimples, we can narrow the list down depending on skin types. The Sebamed Clear Face Cleansing Foam is one of the best products on the market that helps clear acne by deep cleansing the pores and reducing bacteria buildup. When it comes to face wash for pimples, use mild foams which don't make your skin dry.
Sebamed cleansing foam helps deep clean the pores

2-Protect the skin from sunlight
Exposure to the sun makes the skin dry and which results in more oil secretion to make up for the loss of moisture. Use sunscreens to protect your skin from the sunlight, all year round. Using sunscreen is also a common answer to how to remove pimple marks and dark spots caused by pimples. The Sebamed Multiprotect Sunscreen is non-greasy and does a great job of protecting the skin from sun exposure.
Quick Overnight Pimple Remedies
Because pimples have bad timing and can pop up right before big events or important milestones, we often find ourselves searching for quick remedies. If you've wondered how to remove pimples overnight, we have some safe and easy solutions for you!
Quick and easy pimple remedies

1. Apply Ice
- Pimples are red and swollen, making them bumpy and noticeable. When you wonder how to remove pimples overnight, using ice is an effective solution. Ice wrapped in a cloth or plastic bag can help reduce the swelling and the redness, making the pimple less visible. When used 4-5 times a day, it can even make the pimple go away completely. This is a safe method which works for another pressing issue- 'how to remove dark spots caused by pimples'. Applying ice is a simple and safe solution to make pimples go away quickly and does not cause any deeper injury to the skin which is a common cause of dark acne marks.
2. Tea Tree Oil
- Tea tree oil has antibacterial properties, and mixing it with carrier oils such as coconut oil and applying it to the affected area can promote faster healing of the pimple. Tea tree oil-based soap for pimples is also useful in the long term.
3. Green Tea
- Green tea has anti-inflammatory properties that can help make the pimple less visible. Brew green tea and remove the tea bag, allowing it to cool. Then place it over the affected area. Green tea extracts are also used in the face wash for pimples.
Conclusion
While acne and pimples can be recurring problems, it is important to treat them properly to prevent them from developing into serious ailments that may require a visit to a certified dermatologist. Using gentle and non-reactive remedies and products can help prevent scarring and skin irritation in case of oily or sensitive skin too. We hope this blog has answered your question about how to remove pimples from your face and achieve clear skin. For more skin products, visit https://www.sebamedindia.com and discover the best products for your skin.
Products mentioned in the blog: