How to Prevent Skin Issues In Newborn
by Sebamed | May 4, 2023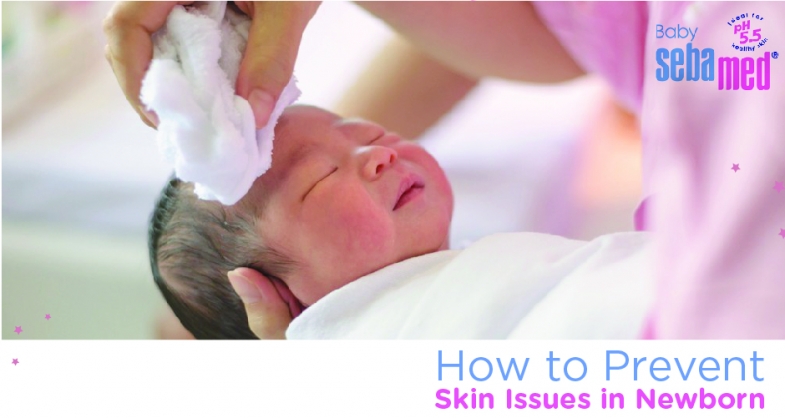 You might be applying creams and lotions on your newborn's skin. I did the same in my early days as a new mom. Then I realized, instead of frantically applying so many baby products, some wise decisions can keep my baby safe from several skin issues.
Newborn's skin is extremely delicate and applying unnecessary products may lead to severe rashes. Always be aware of the ingredients in the baby products that you are applying to your baby. As a mom, you should check whether it creates any allergy on your baby's skin.
Doing a patch test on your own skin is a good way to check for allergies.
Common Skin Problems in Newborns
Cradle cap
Dermatitis
Eczema
Rashes
Milia
Certain skin issues occur by birth, it disappears eventually. You need not worry much about those issues, like milia or cradle cap. Gentle wash is enough for cradle cap in most cases If such skin is taking more than normal time to disappear, you should better find the solution.
Dermatitis may occur due to hot weather, sweating, dry skin, dust, and irritants. There are many types of dermatitis such as atopic dermatitis or eczema, contact dermatitis, and dyshidrotic eczema. Eczema happens due to some child triggers such as food, weather, and baby products.
Certain skin problems may happen due to our negligence or carelessness like diaper rashes. Diaper rash results from the contact of urine and stool for a longer period. Wet or tight diapers could be other causes of diaper rashes.
Causes of Skin Rashes in Newborns
Perfumed baby products
Tight baby clothes
Not using the right baby products
Experimenting with brands
Using too many products
Not keeping baby clean
Chemicals induced baby products
Your over care can be one of the main reasons for baby skin problems. We apply many baby products on our baby's skin without knowing whether they are even required or not. Normally, a gentle wash and a spoon of coconut oil or olive oil massage are more than enough for newborns.
Not maintaining hygiene is one of the major causes of newborn skin issues. Always keep your baby clean and dry. Change the diapers on time. Wash or clean the buttocks well in order to avoid infections in the genital area.
Chemical-filled baby products can badly affect your baby's delicate skin. Experimenting with brands and using too many baby products at a time would be another cause of skin rashes.
How should we prevent skin rashes in newborns?
In the early days of my motherhood, I was also in the same stage where I did not know what to buy, where to buy, how much should be applied to the skin. A few blogs really helped me in this, including Sebamed's Ultimate newborn baby care list. I have learned a lot more about newborn skincare from these blogs.
High humidity in the atmosphere makes the baby sweat fast. Sweating opens the skin pores and this becomes an easy pathway for bacteria and fungal to spread infections on the baby's skin. Areas like genitals, knee, neck, and underarms are prone to such infections. Giving a proper baby bath with soap-free products is the best way to keep skin healthy, However, avoid frequent baths, as it leads to dry skin.
Avoid using unwanted products on your baby's delicate skin. Give them some free space to breathe, say no tight clothes, wet diapers, hard soaps, and high scented moisturizers.
Using fragrance induced baby products may lead to respiratory and neurological dysfunctions and eye damage. So, avoid using them on kids.
Never ever test your skincare products on your baby and avoid using jewellery, it may irritate your baby.
Always choose the RIGHT products for your baby, not the advertised products.
How Sebamed helps me to prevent skin issues in newborn?
The Sebamed blog clearly tells how should we select baby products and what are the mandatory criteria to be checked.
As per Sebamed, below are the few things we need to check before purchasing anything for our newborn babies.
Talc-free
Fragrance-free
Parabens free
Propylene glycol free
Soap and alcohol-free
Hypoallergenic
Tear-free
Sebamed is known for its pH5.5 factor, which is clinically proven. Sebamed's range of baby care products comes with pH5.5, which is vital for newborn's skin to prevent rashes and other skin issues.
Sebamed baby products ensure that your skin remains the way it meant to be. All of their products are developed and tested by dermatologists. Sebamed products are ideal for all skin types such as normal, dry, delicate and problematic.
Some of my favourite baby products from Sebamed are Baby cleansing bar and Baby rash cream. I have been using the Sebamed baby cleansing bar on my kid since she was 3 months old. The presence of chamomile in this cleansing bar soothes the baby's skin and the product is 100% soap and alkali-free.
Importance of Ph5.5
The pH5.5 is necessary to promote the development of the skin's acid mantle. The acid mantle protects the skin from the entry of harmful bacteria and prevents moisture loss.
A baby product that has a pH5.5 keeps your baby skin moisturized and bacteria-free. This helps in maintaining the soft and delicate nature of your baby's skin.
Consult a Pediatrician
As a concerned mother, you do everything you could to protect your baby's skin from vagaries of nature. But, if the skin problem sustains for long it is better to seek an expert's opinion and find the remedy. Consult your pediatrician and seek his help to cure skin ailments.