How to deal with dandruff during winter?
by Sebamed | Jan 18, 2023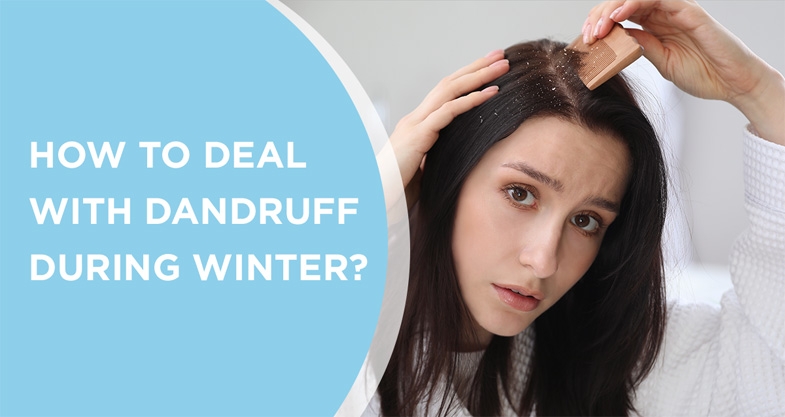 Index
Summary
How can you get rid of dandruff during winter
Which shampoo is best for dandruff in winter?
How to avoid dandruff in winter naturally?
Conclusion
How can you get rid of dandruff during winter
The best way to get rid of dandruff during winter is by ensuring that your hair roots do not dry. Their proper moisturization is vital. A dry scalp becomes a breeding ground for dandruff. Along with that, you will also have to prepare a proper hair care routine for yourself. How? Here's our list.
• Eat healthy
One of the easiest ways to get rid of dandruff is to ensure that you make wise tweaks to your diet. This means you include eggs, fish, green peas, carrots, etc. They help your hair get all the required nutrition while ensuring that dandruff doesn't ruin your days.
• Brush your hair frequently
One of the best answers on how to avoid dandruff in winter is by brushing the scalp at regular intervals. Stimulating the scalp improves blood circulation and secretes the necessary oils which maintain scalp hygiene. A well-nourished scalp can keep dandruff away.
Towel dry your hair during winter to control your winter dandruff
• Avoid direct heat
We prefer to use hairdryers during winter because we can't go out with wet hair. This constant usage of electric appliances can make our scalp dry and itchy. Wrapping a towel around your wet hair for some time is the answer to how to avoid dandruff in winter naturally.
• Reduce your intake of sugar
Having too many sweet things is not going to help you during winter. High blood sugar levels can be the cause of flakes, thereby worsening your dandruff. You can switch to jaggery or dates to keep winter dandruff out of your way
• Avoid colouring your hair`
Colouring your hair isn't a preferable option if you don't want dandruff worries every day, especially during winter. These chemical products can lead to more dryness of your scalp, thereby leading to a flaky scalp
These are some of our top suggestions for dealing with dandruff during winter. Implementing them will help you see the difference they actually make.
Which shampoo is the best for dandruff in winter?
Sebamed's anti-dandruff shampoo provides effective dandruff control
The best shampoo for dandruff in the winter season is the Sebamed Anti-Dandruff Shampoo. You should use Sebamed as your dandruff treatment shampoo because it has a pH of 5.5 which helps in the formation of a protective scalp barrier. The shampoo is extremely suitable for all kinds of weather conditions as the presence of the active ingredient, Piroctone Olamine, counters the dandruff-causing microorganisms. It is also free from irritants like parabens, paraffin, etc., and can be a great choice as a winter dandruff treatment shampoo for washing your hair.
How to avoid dandruff in the winter season naturally
It's important to make a few lifestyle changes that will help you resolve your dandruff issues as we mentioned above. Apart from that, you can also try using these natural remedies for your hair care for dandruff. You can experiment and choose which one works the best for you.
• Apple cider vinegar
Mix the apple cider vinegar with an equal amount of water and spray it on your hair after you are done with the shampoo. Let the mixture settle in your hair for about 5 minutes and then wash off your hair again with lukewarm water.
• Baking soda
Baking soda is a home remedy for dandruff during winter. It can help you exfoliate your scalp. Once done, rinse it off your hair. Ensure that you do not use shampoo or soap on your hair the day you make use of baking soda. That's an important reminder for your hair care for dandruff.
• Honey and Lemon
Honey can act as a moisturizer and keep your scalp hydrated while lemon helps to deal with the itchiness on your scalp. Combine 3 tbsp of honey with a few drops of lemon. Apply it to your hair and let the mixture rest for at least 15 minutes. Post that, use a mild shampoo to wash it off.
Honey and lemon mixture is a widely used home remedy for dandruff
These were a few suggestions on how to avoid dandruff in winter naturally or winter home remedies for dandruff.
Conclusion
We hope you got your answers. Planning winter hair care routine isn't that tough when you have so many options to choose from. Looking for some good shampoo options that can help prevent winter dandruff? Just browse the hair section of our website and see all the benefits that our products have to offer in your tryst to control dandruff!