How Often Should You Wash Your Hair in The Summer?
by Sebamed | May 11, 2023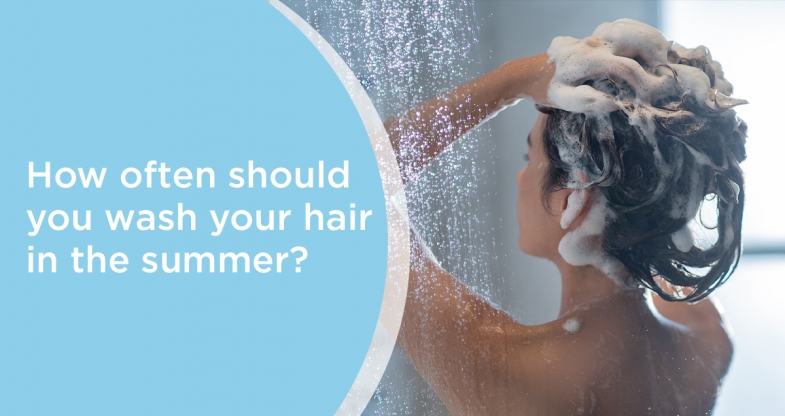 There is so much to love about the summer season - like the longer days, the beachy vibe, and the floral clothes. But what about the hair? This season also calls for a lot of grease and sweat which can be punishing for the hair. It demands a healthy hair wash routine. However, finding the perfect schedule is a task. Washing your hair too often will make your hair and scalp dry. And if you don't wash it enough, it will become oily and lifeless.
While it's hard to find the middle ground, here's a guide to navigate you through your hair wash journey.
Importance of Hair Wash
During the summer season, we're more active outdoors. And the heat, humidity, and dust intensifies hair damage and makes it dull and dry. Taking a nice, cool shower after a hot day feels so relaxing. Isn't it? Not only does it relax your body but is also a treat for your hair. Besides drinking sufficient amounts of water and eating the right food, you need to wash your hair at regular intervals for healthy and nourished hair. After all, love is in the hair.
A girl with healthy and happy hair
How Often Should I Wash My Hair?
We all have heard that washing our hair daily can lead to losing natural oils on the scalp, causing frizziness and dryness. But what to do with the sweat and grease? According to experts, if you are sweating more, you should wash your hair 2 to 3 times a week.
There is no hard and fast rule to the number of times one should wash their hair. A perfect summer hair care routine depends on a lot of factors. It includes a person's hair type. If you have fine, oily, and thin hair, you should wash your hair every other day to avoid looking too greasy and flat.
A girl with thin, oily, and damaged hair
Curly hair tends to dry very early. So, you can schedule your hair wash between 1 to 3 times a week with a hydrating shampoo. You can use the Sebamed Repair Shampoo to regain the bounce and shine of your curls. It is one of the best dermatologist-recommended shampoos for curly hair.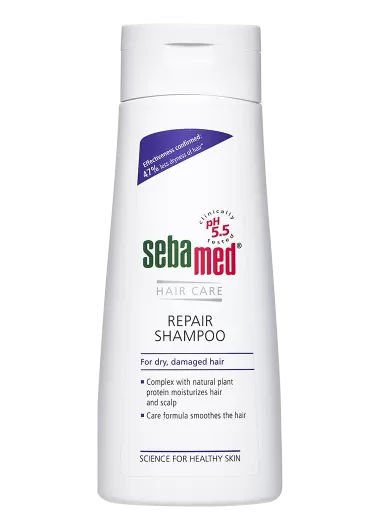 Sebamed repair shampoo prevents hair breakage and maintains moisture
How often you wash your hair depends on your lifestyle as well. The more active you are, the more you need to do a hair wash. No wonder why people who spend a good chunk of their time in the gym wash their hair so frequently. After washing your hair, don't forget to condition them. A good conditioner stops your hair from getting tangled and prevents hair breakage. You can give Sebamed Repair Conditioner a try. Not only does it improve the quality of dull and damaged hair, but also retains the hair's keratin layers. It is dermatologically-tested and loved by many.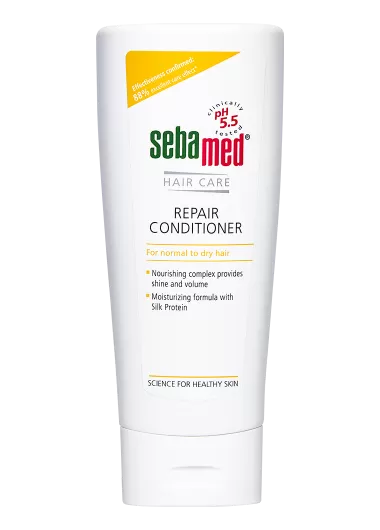 Sebamed Repair Conditioner nourishes your hair and makes it bouncy
What's the Proper Way to Wash Your Hair?
The proper way to wash your hair is a lot more than wetting your hair, applying shampoo, rinsing, and lathering up some conditioner. Here are the steps that you should follow to properly wash your hair.
1. Wet your hair thoroughly.
2. Pick a shampoo according to your hair type and apply.
3. Massage your scalp gently.
4. Spend 1 to 2 minutes rinsing your hair with cold water. It maintains hair strength and keeps it healthy.
5. Apply conditioner and leave it for 2 to 5 minutes.
6. Rinse again properly.
7. Towel dry your hair. Make sure to squeeze or pat your hair rather than rubbing it.
Do's and Don'ts for Hair Care
With increasing stress and an unhealthy lifestyle, hair care should be a routine. Here are some do's and don'ts that you must keep in mind to fall in love with your hair again.
| Do's | Don'ts |
| --- | --- |
| Use a mild shampoo for your hair wash in the summer season | Don't wash your hair everyday |
| Opt for deep conditioning your hair | Don't dig in with your nails while shampooing |
| Eat healthy and keep yourself hydrated | Don't leave your conditioner in for too long |
| Use a scarf to protect your hair from scorching heat. | Don't rub your hair with a towel while drying it |
What Products Do Dermatologists Recommend?
With summers getting sweaty and greasy, dermatologists recommend washing hair with a mild shampoo. You can use the Sebamed Everyday Shampoo that provides volume and shine to your hair. Packed with an extra mild-hair care formula, it maintains the moisture of your hair and builds a healthy hair structure.
Sebamed Everyday Shampoo allows daily hair care without drying out the hair
Treating your hair and scalp with love and respect by minimizing the amount of styling and heat application can do wonders for your hair. The ultra UV rays of summer can clog pores in your scalp, leading to excessive irritation and itching. By using the Sebamed Anti-Dandruff Shampoo, you can get rid of itchiness and oily dandruff.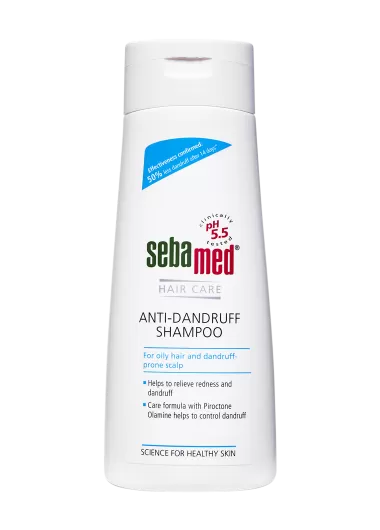 Sebamed Anti-Dandruff Shampoo relieves dandruff irritation
Conclusion
Dry and dull hair can be frustrating, but with an effective summer hair care routine, your hair can feel a lot healthier. Make sure you stay hydrated, wash your hair at least 2 to 3 times a week, and eat your greens. In case you need professional hair care products, you can always try Sebamed as it is loved and recommended by various dermatologists. Visit the website to explore our products.
Products mentioned in the blog: