How I Took Precautions For My Baby's Sensitive Skin - Mom Story
by Sebamed | Feb 13, 2023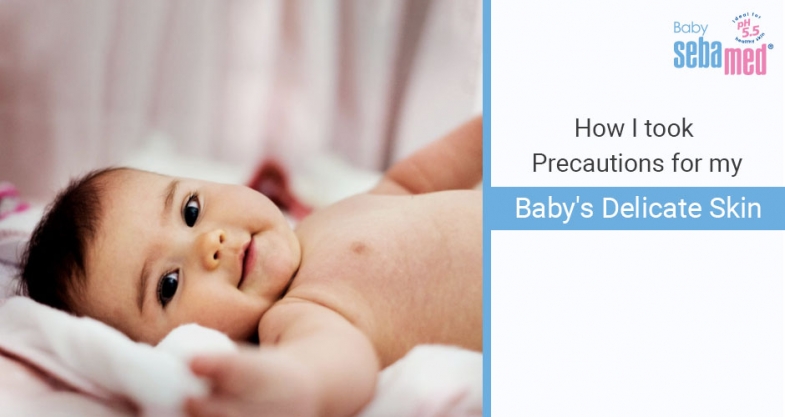 Pregnancy is such a beautiful journey. By default we all want to make this journey smooth, without any hassles. Even more beautiful is the day when you hold that little one in your hands and you feel on the top of the world. That day a mother makes a promise to forever love and protect this little human being. We all want to make everything easy and problem free for our child, don't we?
My name is Anita and this is my story. Like all parents, I was protective about my little baby girl as well. I was a first time mom and I used to listen to advice from my family and friends about how to take care of a baby, the products to be used and not to be used. I did rely on my mommy instincts but the advice got the better of me. Some advice really worked but some landed me in trouble because I did not understand my baby's skin.
A baby's skin is softer, thin, delicate and extremely different from the skin of an adult- and this I realised after my baby had some skin problems. In India, we tend to focus a lot on baby 'maalish' or massages. Though it is a very good thing, in my house the massage was done by a lady who used to rub warm mustard oil on the baby's skin. My baby used to cry during massages and everyone else laughed because they thought that this baby does not like to be woken up with massages and then given a bath. Though my baby used to sleep peacefully after a bath, I realised one day that she is having tiny red bumps on her skin. That was the time that I became vigilant and cautious about the skincare products that I use for my little one. I did my own research, spoke to her doctor and went through many products and their ingredient list. Before buying a product even now, I try to read all the details from their website, the reviews and feedbacks. I came to a conclusion that it was Sebamed products that suited my baby's skin the most and since then I have been using this brand and I am very happy with the results.
What I Did Not Know?
Human skin has a pH value . This pH value refers to how acidic or alkaline the skin is. On a scale of 1 to 14, 7 is considered neutral for our skin's acidic pH. While values greater than 7 to 14 is considered the alkaline level. The acid mantle or the thin , protective layer on our skin, protects the skin against bacteria, harmful germs, allergies, pollution while maintaining the moisture level of the skin. But the skin needs to keep a balance so the acidic mantle should stays at pH 5.5.
A baby's skin varies from adults. In newborns, the pH value is higher, almost close to neutral. From Day 3, there is a decline in the pH levels and by the time the baby is 3 months old the pH is higher on the cheeks, buttocks and is lower on the forehead and forearms.Thus, skin pH also varies in different body parts. A baby's pH can be high if the baby is prone to dermatitis or any skin infection. The use of inappropriate skin products destroys the outer layer of the baby's skin and thus they develop infections and rashes and other skin ailments.
I did not know that baby's skin has an enzyme which helps in thinning out the old skin so that new skin develops in its place. That is why some newborns shed little skin on their body. But this enzyme is pH sensitive if the pH is higher than 5.5 this enzyme will thin out the skin, making it prone to prone to irritation and rashes.
Sebamed is a German skin care brand and are specialized experts in skincare products for babies and adults. All their products have a pH level of 5.5 which is the best suited for baby's skin. The products not only provide the required pH level to the skin but also prevents moisture loss from the baby's skin and keeps it from dehydration. Moreover, all Sebamed products have clinical tests to support the effectiveness of each products.
My Daily Skincare Routine For My Baby
I usually follow a pre-bath and a post-bath routine for my baby. Now I take care that all soaps and lotions that I use adhere to the pH levels of my baby's skin. The adult soaps and lotions that we use have a pH of 9 and should not be used on baby's skin.
#1. Massaging My Baby
Yes, massages are important for babies. They help them to relax, calm down and develop stronger and healthier bones. Thus it becomes important to choose a light massage oil for babies and not the cooking oils or the sticky ones. I prefer using a very light soya oil for my baby's massages. This prevents my baby's skin from drying out and also keeps the moisture intact. During summers, this oil is so light and non sticky and 2-3 drops of it does wonders for my baby's skin.
#2. Bathing The Baby
Giving a bath should be a happy moment for the mother and the baby. After a nice massage, a bath sounds so wonderful! Always use lukewarm water for babies and not too hot or too cold, even during summertime. For me the Sebamed extra soft baby wash was the ideal for my baby's skin as it was a no tears formula they used It is enriched with vernix related squalene – which hydrates, nourishes and protects the baby skin from any harm This was very soothing and my baby always has a pleasant experience while bathing.
#3. Baby Shampoo
Not only is the skin on the body parts important but the scalp underneath baby's hair is also very important. We have seen babies suffering from cradle cap or dandruff and even eczema on their scalps and this is because the products used were too harsh for them. Thus I choose a shampoo which has the perfect pH for baby's hair and is mild to the skin. A no tears formula here works very well. Never try to use adult shampoo on baby's hair even if it is herbal because that might be too harsh on them. Hence Sebamed Children's shampoo with pH 5.5 is perfect for my baby.
#4. Moisturising Lotion
A moisturizing lotion should also be light and something that prevents dry skin. Thus I look for products that are Paraben and Silicon oil free and Sebamed Baby lotion has been the best for my baby's delicate skin. The chamomile extracts, natural oils and allantoin protects my baby's skin from any kind of irritation and ensures long lasting hydration.
#5. Rash Cream
Rash creams are an important item for all baby needs. We cannot do away with diapers, thus a good rash cream always comes handy when we need to keep away boils and painful rashes away from our baby's delicate skin. After every diaper change I apply a little rash cream on my baby's buttocks and the waist area to prevent any sort of rashes and grooves on the skin. When a product has the moisture complex of beeswax along with chamomile or wheat germ oil, it supports the pH balance of the skin while protecting the skin from harmful rashes.
I am happy that I made the right choices and took steps to protect my baby's skin from any harm. My baby's skin is softer and smooth now and her hair texture has improved and is extremely smooth. Before buying baby products always go through the ingredient list and do not buy them if they have harsh chemicals and Parabens.