Here's how you can put an end to acne and its recurrence
by Sebamed | Jul 20, 2022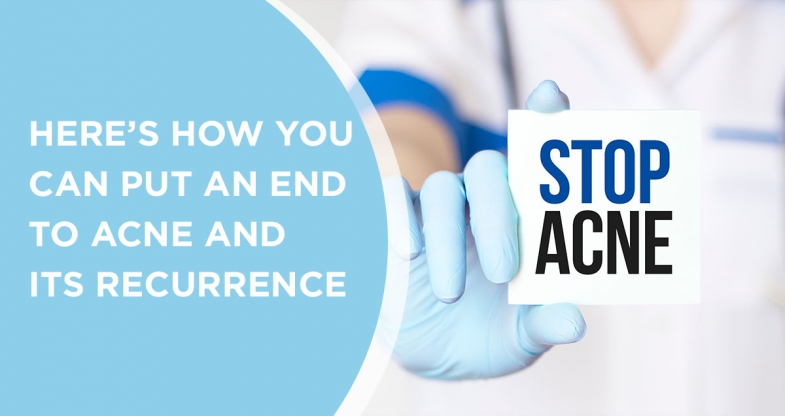 The only thing more stressful than acne is having to deal with recurring acne on the skin. We understand it is one of the worst skin problems to endure, and it's about time we talk about the root causes and solutions to cure them. Do you also want to know how to stop pimples coming on the face? Are you also looking for some suitable skincare products to treat it? If yes, read on, as this blog explains the reasons for recurring acne on the skin and highlights a few of the best solutions to stop the same.
What are the causes and treatments of acne?
Let's figure out the root causes and simultaneously check out suitable skin care products that can treat acne and help your skin maintain that healthy glow.
Touching your face frequently
We know this sounds a little absurd, but when you touch your face too often, bacteria and dirt from your hands transfer to your face resulting in recurring acne on the skin. So, either you can wash your hands regularly or avoid touching your face often. Believe us when we say that it is a start toward healthy skin.
But if you have already done the deed, we do have a solution! Wash your face twice with the Sebamed Clear Face Foam that combats the problems of impure, oily and acne-prone skin. Besides, it also restores the skin's balance. The cleansing properties of the Sebamed Clear Face Cleansing Foam promote healthy skin with its pH value of 5.5 and maintain the skin's softness and smoothness.
Hormonal changes
If you want the answer to, "How to stop acne on the face?", then you should know, that there are two types of acne: teenage acne and adult acne. Teenage acne is nothing but a sign of puberty and hormonal changes, but adult acne signifies acne-prone skin. Usually, females struggle with acne issues due to their menstrual cycle and hormonal imbalance. If you are facing acne issues after your 20s or 30s, you should get yourself checked or visit a dermatologist.
Using wrong kinds of skincare products
Wondering how to stop pimples coming on your face? Well, the answer is to stop using the wrong kinds of skincare products. We agree that there is a vast pool of products to choose from but pick the one that suits your skin. The first step is to figure out your skin type. Is it acne-prone skin or dry skin? While purchasing a product, remember to check the ingredients, whether it contains sulphates, mineral oil, or any harmful chemical that can worsen your skin condition.
We have some skin-friendly products for your skin to be rejuvenated regularly, including the Sebamed face wash for acne-prone skin. You can also check out the wide range of skin-friendly skincare products on the Sebamed website!
Hydration of the skin
To avoid any kind of dryness, it's important to hydrate your skin. You can use daily moisturizer or gel to keep your skin hydrated throughout the day to avoid breakouts and dryness, among other things. For oily skin, it is ideal to pick an oil-free gel or moisturizer.
If you are still confused about how to stop pimples from coming on your face, use one of the oil-free gels like the Sebamed Clear Face Care Gel, which hydrates your skin. It also soothes the skin and makes it softer than ever. It truly works its magic in no time!
You can also use the "Sebamed Clear Face Foam" which has a cleansing foam that helps you effectively fight off the skin impurities. Its refreshing foam gently removes oil while its special formula combats pimple-causing bacteria.
Proper sleep
"How to stop acne on the face?" Do you often find yourself looking for an answer to this question? Then understand beauty sleep is not a myth. Your sleeping routine may be the closest thing to getting younger every day. Getting up to 7-9 hours of sleep helps your skin make new collagen, which results in fewer wrinkles.
The night skincare routine must involve washing your face regularly, and for that, we would recommend the Sebamed Clear Face Foam, a face wash for acne-prone skin that acts as a daily cleanser and fights pimple-causing bacteria.
Did you have all of the above-mentioned questions? If so, we hope we answered some of your questions, such as, "how to stop acne on the face" or "Which product to use when you have oily skin?". Lastly, we would like to tell you that acne recurrence is a common phenomenon, but a good skincare routine can help anyone tackle it.