Five Benefits of Using a Sunscreen Lotion during the Summer Months
by Sebamed | Mar 31, 2022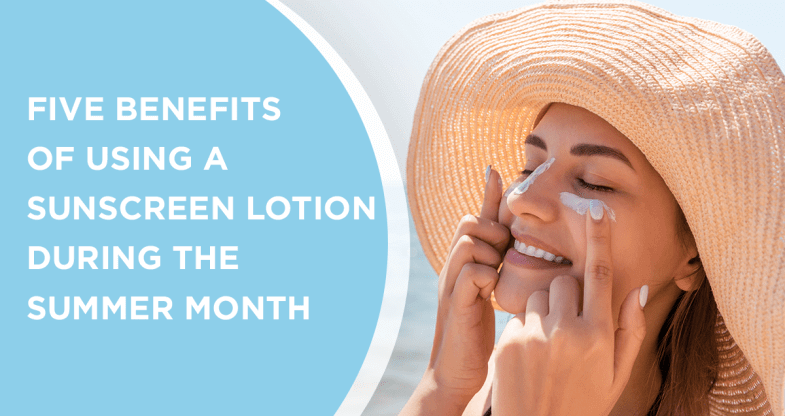 The summer season is here and so are tans, rashes, and itches. While this time of the year is great for vacations and outdoor activities, it could be extremely harsh on your skin. Thus, using a sunscreen lotion is a must to keep your skin protected.


Always cover your face when stepping out of the house.
In this blog, we will get you acquainted with the top five benefits of using a sunscreen lotion. We will also introduce you to the Sebamed skincare products for women and men. So, let's begin!
Top Five Benefits of Using a Sunscreen Lotion
One of the most common misconceptions is that you only need to apply a sunscreen lotion while stepping out of the house. However, it is far from the truth! As a matter of fact, sunscreen lotions must be used throughout the year and not just during the summer season. Here's why sun lotions are essential for your skin:
1. Sunscreen lotions shield your skin against UV rays
With the depletion of the ozone layer, sun damage has increased drastically. Sunscreen lotions help you create a layer of protection to prevent direct contact with the harmful rays of the sun. Thus, Sebamed's SPF 50 Multi Protect Sunscreen Lotion comes with UVA/UVB filters to provide you with triple protection.


The Sebamed Sunscreen Lotion also contains vitamin E to protect your skin from sun damage.
2. Sun lotions prevent premature ageing of your skin
According to the National Center for Biotechnology Information (NCBI), sun exposure is responsible for 80 percent of the signs related to skin ageing. In fact, skin tanning is regarded as the first visible sign of ageing. Thus, protecting your skin from UV rays is extremely important to prevent premature ageing.
In case you have already begun noticing wrinkles and fine lines on your skin, we have the ultimate solution for you! Sebamed's anti-ageing cream for women and men contains a unique anti-ageing formula called Q 10. It supports the metabolic activities of your skin cells, regenerates skin, and maintains the elasticity of your skin.

The Sebamed Anti-ageing Cream has been formulated with the ideal pH of five point five.
3. Applying a sun lotion can reduce the risk of skin cancer
Sunscreen is not only essential for your skin but also for your overall health as it helps you prevent the risk of diseases like skin cancer. The Skin Cancer Foundation says that applying an SPF factor of 15 reduces the chance of developing cancer cells by 40-50%. Thus, you must use a sunscreen lotion every day to ensure a healthy body.
4. Sun lotions help you avoid sunburns
Frequent exposure to the sun's rays can damage the protective acid mantle of your skin. This could result in sunburn. Sunburn not only causes irritation and pain but can also turn into a severe health problem. Thus, using an effective sun lotion is crucial to keep your skin happy and healthy. So, make it a point to apply the Sebamed SPF 50 Multi Protect Sunscreen Lotion.
5. Sun lotions help you maintain your skin tone
Exposing your skin to UV rays for extended durations could cause discolouration and dark spots. A sunscreen helps you maintain a vibrant, youthful, and even skin tone. Thus, it is one of the most popularly used skincare products for women during the summer season.
Conclusion
We're sure you now understand the importance of using a sunscreen lotion and will make it an integral part of your skincare routine. We also recommend using the Sebamed Anti-ageing Cream for women and men to improve the effectiveness of your sun lotion. So, wait no more. Visit Mywellnesskart and grab your summer essentials right away!