Bid Adieu to Your Dandruff Problems with Sebamed Shampoo
by Sebamed | Apr 17, 2023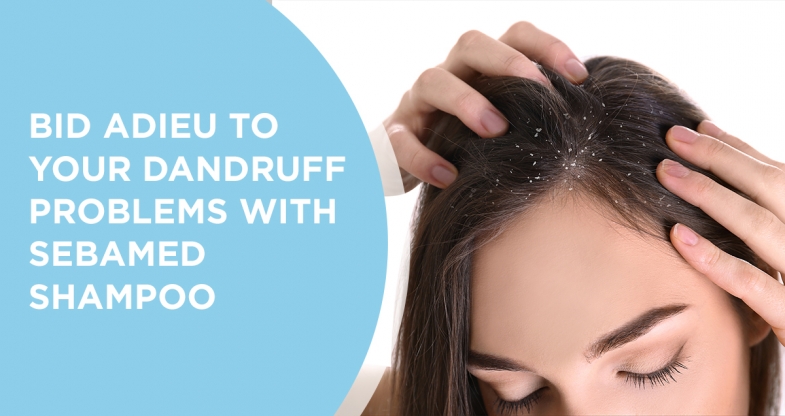 Are you having a tough time dealing with your dandruff problems? If yes, then this blog is here to help you out with an effective solution. But first, let's understand why dandruff arises in the first place. Even though the exact causes of dandruff are not fully known, research suggests that the emergence can be due to a combination of factors, such as dry skin, oily skin, fungal infections, or even stress. When left untreated, dandruff can worsen and lead to more severe symptoms, such as redness, inflammation, and even hair loss.
Index [hide]

Don't scratch your scalp to get rid of the itchiness
How can dandruff hamper your hair health
Dandruff patches on the scalp can obstruct hair follicles and impede their absorption of vital nutrients, which can result in weakened hair roots, scalp irritation, and inflammation. This, in turn, can exacerbate itching and scratching, ultimately leading to hair breakage. In addition, if you use harsh shampoos for washing your hair and other hair products to try and control dandruff, they can strip your scalp and hair of natural oils, thereby leading to dryness and brittleness. Overall, dandruff can compromise hair health and contribute to a range of hair problems.
What makes dandruff worse?
There can be many reasons why your itchy dandruff scalp can worsen. One of the main factors is dry skin. Another is the overgrowth of a type of yeast called Malassezia which feeds on natural oils of the scalp and can cause skin cells to multiply rapidly, increasing dandruff. Hormonal changes, stress, poor diet, and certain medical conditions like psoriasis or eczema, can also result in a flaky dandruff scalp.
If you see persistent flakes on your scalp, do consult a doctor
Is dandruff a serious problem?
No, dandruff is not a serious health concern. However, it is wise to address it in time to prevent it from worsening and causing further discomfort. Additionally, if the root cause of your flaky dandruff scalp is an underlying medical condition, such as psoriasis or seborrheic dermatitis, it is vital for you to seek proper medical attention for diagnosis and treatment.
How long does dandruff last?
Dandruff can never be cured but can only be controlled by following the right lifestyle and using the right products. The length of time that dandruff patches persist on the scalp can vary depending on the severity of the underlying dandruff problem you are currently experiencing. Hence, make a wise choice by choosing an effective, medicated and pH balanced anti-dandruff shampoo for your everyday dandruff problems.
Which shampoo is the best for dandruff?
Sebamed's Anti-Dandruff Shampoo can give you desirable results over a period of time
There are various shampoos available in the market that claim to be the best solution for dandruff, but a pH balanced, medicated shampoo is always your best option. That's why you should check out Sebamed's Anti-Dandruff Shampoo . This shampoo for dandruff and itchy scalp will prevent dandruff recurrence to a great extent. This is possible due to the presence of active ingredients like Piroctone Olamine that prevent the formation and growth of dandruff causing bacteria and soothe your scalp of the irritation. It is the perfect solution for how to remove dandruff from the scalp because its been developed with mild wash active substances that gently cleanses the hair and makes it smooth and silky.
The effectiveness of this shampoo is also backed by clinical tests. The importance of pH 5.5 is that it supports the regeneration of the scalp's acid mantle efficaciously. It's one of the best products for dandruff and should be used 2-3 times a week to see the desired results. The absence of irritants like parabens, paraffin, etc., also make this shampoo safe for long-term usage.
Tips for healthy and dandruff-free hair this summer season
Here are some tips that will help you enjoy the summer season without any constant dandruff problems!
- Stay hydrated:
Drinking plenty of water will nourish your scalp and hair and will keep it hydrated.
- Protection against the UV rays:
The harmful sun rays can damage your hair and scalp, which can trigger dandruff growth. It's best to cover your head with a hat or scarf whenever you step outside.
- Follow a healthy diet:
A healthy diet rich in vitamins and minerals can help maintain healthy hair and prevent dandruff. Eat foods like leafy greens, nuts, and fish which are rich in omega-3 fatty acids and antioxidants.
A healthy diet is a must for a healthy scalp
- Wash your hair at regular intervals:
During summers, sweat and humidity increase, which can result in the build-up of dandruff. Therefore, it's necessary that you follow a proper hair wash routine by using the best products for dandruff.
Conclusion
We hope this blog has provided you with a deeper understanding of dandruff, its potential issues, and the various solutions available to address it. We recommend that you consider following the above suggestions and start using an effective dandruff solution to see the difference. If you are searching for options, then do check out our hair section. Sebamed has some really good dandruff solutions for your hair that will help you counter your dandruff problems most effectively.
Product mentioned in this blog: