Benefits of Using Baby Lotion for Dry Skin in Summer Months
by Sebamed | Mar 30, 2022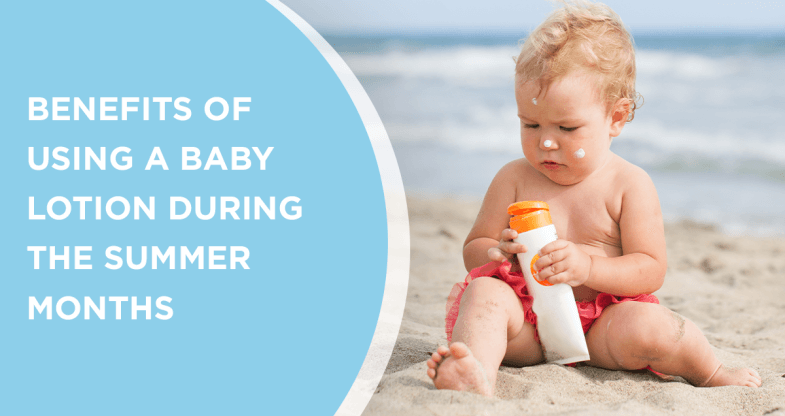 The hot summers are here! As a parent, you must be worried about heat waves and the sun affecting your baby's delicate skin. Your concerns are absolutely correct because the harsh sun takes away the much-needed nourishment from your baby's skin. A baby's skin is fragile and needs more protection during childhood. The best way to keep your baby's skin hydrated is by applying a good baby lotion.


Be careful when you take your baby out during the summer months when the sun is at its peak

Why do you need a good baby lotion in the summertime?
Today, the market is filled with several products, and you may get confused while picking a good lotion for your little one. You can get the Sebamed Baby Lotion to nourish your baby's skin during the summers. All Sebamed products are clinically tested by leading dermatologists and created at pH 5.5. At pH 5.5, your baby's skin's natural barrier is maintained, and the skin stays hydrated for long periods.
There are several advantages of moisturizing your baby's skin with the Sebamed Baby Lotion. Read on to know about some of the benefits:
Keeps your baby's soft skin hydrated
In the summer, nutrients and moisture can be lost due to high temperatures. This can lead to several unwanted issues such as ashy patches, dull skin, patchy skin, and tightness in your baby's skin. To avoid dry skin and associated problems, you should use Sebamed Baby Lotion. The moisturizing and emollient complex ensures that the hydrolipid balance stays intact in your baby's skin.
Provides intense nourishment
The Sebamed Baby Lotion has active ingredients like allantoin and chamomile which soothe your baby's delicate skin during the hot months. It has been clinically proven that at pH 5.5, the skin's acid mantle is strengthened, and this baby lotion has been formulated with the ideal pH value. You can use this moisturizing cream even on your baby's face to support barrier function and keep your baby's cheeks soft and supple.


The Sebamed Baby Lotion does not leave a greasy residue behind
Effective and safe from day one
Sebamed prides itself on using the best ingredients and all products are free from harmful chemicals like sulphates, parabens, alkali, etc. You can safely use this baby lotion when you welcome your newborn. If your baby is in a room where the air-conditioner is on, the cold air can quickly dry out your newborn's skin in summers. You should use this baby lotion to keep dry skin at bay. Take a small amount of the lotion and gently apply it to your baby's skin at least twice daily during the summers.
If you wish to take your baby out during the day, remember to invest in a good baby sunscreen lotion as well. A broad-spectrum sunscreen will provide protection against both UVA and UVB rays. A baby skincare regime is essential during summers to protect the delicate and soft skin of your little one. You can apply the Sebamed moisturizing cream on your baby's face, hands, and feet after a bath, and then use the baby sunscreen lotion at least 15 minutes before stepping out. This summer, get ready to fight the heat with the best products and a perfect baby care regime!