A Beginners Guide to Skincare for Men
by Sebamed | Apr 4, 2023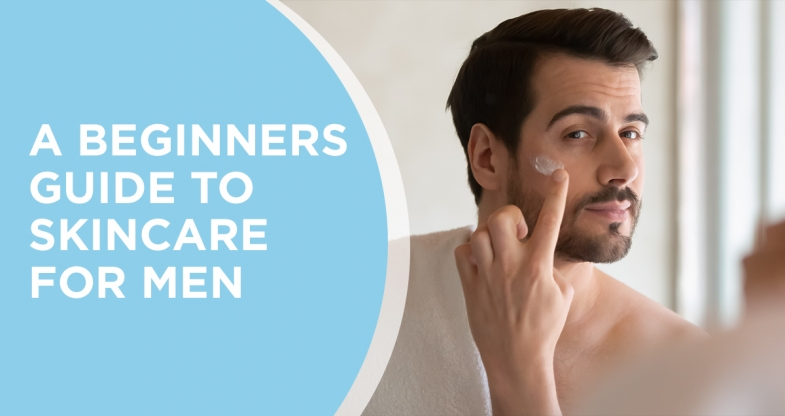 Being in the 21st century, you can't expect us to not talk about skincare for men. Skincare does not have a gender, and skin problems do not discriminate as they target everyone. Hence men must go beyond the traditional soap and aftershave. The ever-expanding skincare market hasn't left men's needs behind. Countless brands are announcing versatile ranges of skincare products for men.
A man religiously following a skincare routine suiting his skin type
The Holy Grail Skincare Routine for Men
Skincare is highly subjective and varies from one skin type to another. There are different products for each skin type and it is imperative to follow a skincare routine that works best for your skin. So let's discuss the best skincare routine for men that will ensure that your skin defeats dull and dehydrated skin -
Outset with CTM
CTM is a popular term in the world of skincare, which is an abbreviation for Cleansing, Toning and Moisturizing. These days new steps have been added to the pioneer skincare routine of CTM, like serums and facial oils that target specific skin concerns. Regardless of your skin type, be it oily or dry and even combination skin, CTM is the first and the most significant step in taking care of the skin.
Build a shaving routine
Shaving is yet another important self-care step for men. Shaving a beard is not just about looks but also hygiene. Gone are the days when looking unkempt seemed manly, a well-shaved face is a sign of a well-groomed man. Building a suitable shaving routine is imperative as the facial skin is highly prone to razor burns and cuts. The best skin care tip for men for shaving is to dampen your skin before shaving, foam up the shaving cream and glide your choice of the razor against the direction of hair growth.
Man shaving his beard to ensure a clean and crisp look

Apply Sunscreen
We cannot stress enough how important sunscreen is for your skin, whether you stay indoors or outdoors. It is critical to apply sunscreen, an important men's beauty product based in India, in the morning, no matter the weather outside. The UV rays from the sun are harmful to the skin and can cause premature ageing, wrinkles, pigmentation and even skin cancer! Regularly applying sunscreen is one of the best skincare tips for men, women and children.
Dermatologist-recommended skincare products for men
It is never too late for men or anyone to start skincare. Naturally, it is better to start early, but even in your mid-20s or 30s, you can salvage your skin and repair it with some of the men's beauty products that are based in India. Let us discuss these products in depth and see how they can help nourish and moisturise your skin.
Sebamed Clear Face Cleansing Bar
As discussed, the first step to any skincare routine for men is cleansing their face thoroughly to remove any dirt and impurities. The Sebamed Clear Face Cleansing Bar is the best skincare product for men as it helps tackle skin impurities while combating oily skin. If you want to target whiteheads and blackheads, look no further! This super gentle cleansing bar ensures deep cleansing of the pores.
Sebamed Moisturizing Cream
Moisturizing is the last and best step in the night skincare routine for men and the second last in the morning routine. And what better product than the Sebamed Moisturizing Cream to heal and moisturise your skin? Formulated by dermatologists, this facial cream keeps the skin super soft, supple and nourished throughout the day. The rich and nourishing cream builds a protective barrier over the skin and restores a healthy skin balance with a pH of 5.5.
The Sebamed Moisturizing Cream is one of the best skincare products for men

Sebamed Fresh Shower
Bathing is not even a part of the skincare routine though it is the most crucial part of the hygiene routine. But most of the shower gels available in the market are super harsh, which strips the skin of its natural oils. It is why the Sebamed Fresh Shower Gel is a gentle body wash free of soap and alkalis, which are harmful ingredients for the skin.
Keep your skin's protective barrier in place with the Sebamed Fresh Shower Gel

Sebamed Anti-dry Hydrating Body Lotion
Men often avoid this step in their skincare routines, applying a hydrating and moisturising body lotion on their body. Dryness prompts multiple skin problems and issues, hence, it is crucial to apply a body lotion. Formulated with nourishing ingredients, the non-greasy Sebamed Anti-dry Hydrating Body Lotion keeps the skin moisturised and protects it from dryness.
Conclusion
In this blog, we have curated the best skincare routine for men, following which they can have healthy skin. Even though men usually have thicker skin than women, they need to follow a well-thought-out skincare routine, as it helps in hydrating the skin and protects it from skin problems. You can also visit our website at Mywellnesskart to buy these skincare products for men.
Products mentioned in this Blog