10 Pre and Post-Holi Skin and Hair Care Tips For The Ultimate Protection Against Holi Colours!
by Sebamed | Feb 21, 2023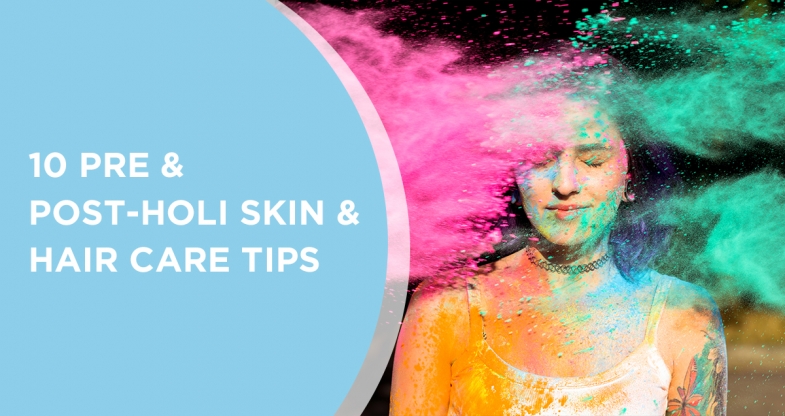 Holi, one of India's most vibrant and colourful festivals, is a time of immense joy and celebration that unites individuals in unbridled merriment. Celebrated with great enthusiasm and fervour on the day following Holika Dahan, the festival signifies the arrival of spring and the triumph of good over evil. It is a festival that commemorates the victory of demoness Holika, with people lighting bonfires to symbolise this victory.
As we immerse ourselves in the exuberance and merriment of Holi, it's crucial to acknowledge that the vivacious hues that grace the festival can bring along undesirable effects to our skin and hair. Ranging from pesky rashes and skin irritation to untimely breakouts, these colours can cause a great deal of damage. In this blog post, we've delved into some practical and effective skincare tips for Holi that can aid in retaining the youthful and resplendent glow of your skin. Whether it's pre-Holi rituals or post-festivity remedies, we've got you covered.
Holi is the time of colours and celebration!
How to protect your skin in Holi?
As we gear up for the festival of Holi, it is crucial to ensure that our skin is well- protected and nourished. Preparing your skin before playing Holi can make all the difference in keeping it healthy and radiant. Here are some pre-Holi skincare tips that will help you get ready for the festivities and stay worry-free!
1. Moisturise your skin thoroughly:
Apply a thick layer of moisturiser on your skin, especially on the exposed areas like your face, neck, and arms. This will create a protective barrier between your skin and the colours, preventing the colours from penetrating your skin. The Sebamed Moisturizing Cream is a moisturiser from one of the best skincare brands in India and can be applied before playing Holi. This moisturiser will help you guard against pollutants and dryness throughout the day. It is also suitable for sensitive skin.
One of the best cruelty-free moisturising creams

2. Apply oil on your hair:
Apply a generous amount of oil to your hair to protect it from the colours. This makes it easier to wash the colours off later. Applying hair oil is one of the essential hair care tips for Holi.
3. Use a good quality sunscreen:
Apply a broad-spectrum sunscreen with an SPF of 30 or higher on all exposed areas to protect your skin from the harmful UV rays of the sun. The Sebamed Multiprotect Sunscreen SPF 50 Plus is ideal for normal to oily skin. Falling under one of the best skincare brands in India, this sunscreen is also free from parabens, colourants, mineral oil, and alcohol.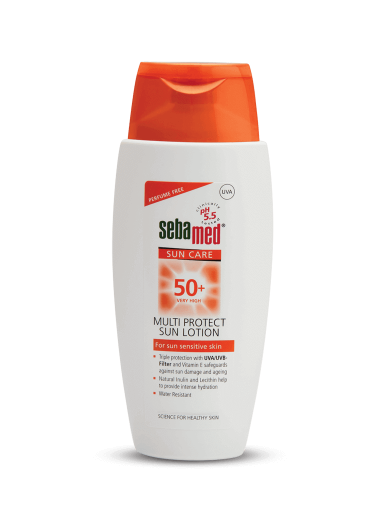 Multi-protect sun lotion for sun sensitive-skin
4. Wear full-sleeved clothes:
One of the tips on how to protect your skin in Holi is to wear full-sleeved clothes that cover your arms and legs and minimise skin exposure to the colours.
5. Stay hydrated:
Drink plenty of water and keep yourself hydrated throughout the day. Staying hydrated is one of the important pre-holi skin care tips that will help in flushing out the toxins from your body and keep your skin healthy.
By following these tips, you can prep your skin and hair before playing Holi, but what about your post-Holi skincare routine? Here are some tips that you can follow.
How to protect your skin and remove holi colours from the face and hair?
Holi colours can be harsh and abrasive, if not removed properly, they can cause skin irritation, dryness, and even acne. Therefore, it is crucial to follow a post-Holi skincare routine to help your skin recover from the damage caused by the colours and restore its natural health and glow. Here are some essential post-Holi skincare tips for skin and hair that you can follow.
1. Rinse off the colours immediately:
Wash off the colours as soon as possible to prevent the colours from penetrating your skin. Use a gentle cleanser to remove holi colours from your face.
2. Wash your hair gently:
Rinse off the colours from your hair using lukewarm water and a mild shampoo. The Sebamed Anti-Dry Revitalizing Shampoo is a gentle active wash that cleanses your hair with utmost care. Utilising a mild shampoo is an important hair care tip to follow for holi.
A soothing and revitalizing shampoo for hair
3. Apply a nourishing moisturiser:
After washing off the colours, apply a nourishing moisturiser to soothe and hydrate your skin. Look for moisturisers that are free from parabens and paraffin, and that help you soothe your skin. Applying moisturiser is an important post-Holi skincare tip that one must follow.
4. Don't exfoliate:
Avoid exfoliating your skin for at least a week after playing Holi as it can further irritate your skin. Let your skin heal naturally. These Holi precautions for skin and hair can prove effective if followed correctly.
5. Apply a hair mask:
You can indulge in a hair mask to get your hair moisture and shine back. You can either DIY or get a readily available one. A hair mask is one of the most soothing hair care tips for Holi 2023.
The aftermath of a rocking Holi party is beautiful!
Conclusion
Taking care of your skin before and after Holi is crucial to keep it healthy, glowing, and free from damage. It's important to take care of your skin before and after Holi to maintain its health and appearance. Following these holi tips and precautions for skin and hair, you can protect your skin from harsh colours and other harmful elements and restore its natural radiance. So, follow these tips and enjoy the festival of colours without any worries. Visit https://www.sebamedindia.com/ to learn about more products you can use this Holi!
Products mentioned in the blog
- Sebamed Moisturizing Cream
- Sebamed Multiprotect Sunscreen SPF 50 Plus
- Sebamed Anti-Dry Revitalizing Shampoo